Entrepreneurship & Innovation Hub (EIH)
Overview
The Entrepreneurship & Innovation Hub (EIH) aims to help highly motivated students put their ideas into action. We do this by facilitating pathways for students to explore entrepreneurship through our entrepreneurial education programming and club activities throughout an academic year.
The EIH's role also uses entrepreneurship education as a platform teaching and developing students in acquiring soft skills, self-direction and a motivated mindset to improve employability as they move into the workforce.
Goal
To bring to life the EIH vision and mission while advancing the "Many Voices, One Vision: Strategic Plan 2022-2025", specifically around strategic theme, "Foster student learning, student development, academic success and persistence to goal attainment."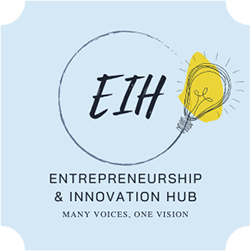 Vision
To be a regional leader in training and producing future entrepreneurs and intrapreneurs to contribute to a thriving regional economy, while meeting the demands of the region's growing talent needs.
EIH Values
Access: Open opportunity for students to explore and pursue entrepreneurship in an environment that offers practical support of the identification and achievement of goals within their ability.
Continuous Improvement: Challenge students to always look for ways to be self-directed; and constantly be in a state of personal and professional development.
Diversity: Help students understand the economic value of embracing people of differing viewpoints.
Employees: Encourage faculty to view entrepreneurship education as a bridge to classroom instruction and real-world application.
Instructional Excellence: Create an environment where students learn from real world business practitioners to develop their intuitive capacity along with intellectual curiosity to identify entrepreneurial opportunities and innovation.
Learning: The development of foundational knowledge of entrepreneurship and innovation.
Partnerships: The fostering of relationships that provide innovative and entrepreneurial solutions to meet the demands of the community and the region's economic development and workforce needs.
Student Development: Engage students with out-of-the-box opportunities that fosters individual growth, leadership and service; and intentionally support holistic development.