Sleight of Hand
By Sara Karnish

A famous saying goes, "Choose a job you love, and you will never have to work a day in your life." Alani Jimenez, award-winning caricaturist and LCCC alumni, embodies this quote. For him, art has been part of his life for as long as he can remember. He is still pursuing his passion and sharing his gift with others by teaching and helping new artists find their own style.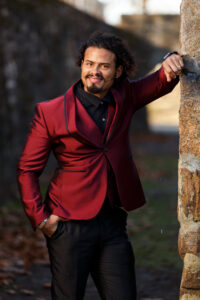 With artists for parents, it's no surprise Jimenez showed an interest in art at an early age. "My dad tells me I got interested in art before I could walk," Jimenez recalls. "I would pick up his brush and start painting—I would crawl over to the wall and start painting on his work." Cartoons fascinated Jimenez, and the young artist would try to copy the images he saw on the TV every day. "It always piqued my interest to have those images on a piece of paper," he says, adding most children were attracted by the exaggerated movements, but "for me, it was the pretty pictures. I always enjoyed drawing, and my passion grew more and more by watching cartoons."
Caricatures are a type of art in which the physical features of the subject are exaggerated. With Jimenez's interest in cartooning, it seemed natural for him to gravitate toward this style. He describes his drawing process: "I will look at the person and see what stands out. From there, the visual experience I have is in a magnified form [in the caricature]. Some parts are big, some parts are small. If the person has close-set eyes, their eyes will be tiny dots in the caricature, "says Jimenez. "Having been trained to draw the average face, I visualize the difference from the average face. I was trained to draw the face from the outside (silhouette) in, then add the features. But with the caricature, I start from the inside out—draw the features first, then go on to the edge of the face. There are multiple ways to do it. It took some time for me to learn to do both."
When it was time for Jimenez to pursue post-secondary education, he wanted to combine his two interests: drawing and computers. "Graphic design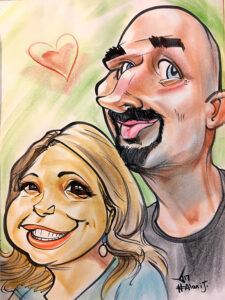 is what my counselor suggested," he recalls. He earned his associate degree in 2005 and since then has received a number of awards. He was named Fastest Caricaturist in the World by International Society of Caricature Artists' (ISCA) at its annual convention, ISCACON, in 2019. As part of the event, he participated in a party art competition, drawing more than 24 different scenarios in 30 minutes. "That got me nice and warmed up for the speed competition." He drew 15 faces in five minutes, earning the "Fastest Caricaturist in the World" distinction.
Jimenez works with a company called Uncommon Caricatures and Face Paint, and also holds events on his own. He has over 1 million followers across his different social media platforms and is always looking at what is next. He says his family remains his greatest inspiration. "They keep me going. I want to better myself so I can teach them as much as possible." He lives in Allentown with his family, and says his kids, Alani X, 10, and Cyani, 9, think his career is "cool, but don't like that I travel so much. I've been teaching a lot of tips, tricks, and techniques about caricatures and different mediums in art. It's about finding your own voice and breaking out of your comfort zone. It's an everyday practice that we all have to do to get better." He adds, "You're in the arts because you love it, not because you want to make money from it. To get better, one has to have the passion to continue learning about it—it's an ongoing improvement." He says he is working on a drawing course that he plans to launch at the end of February-early March 2021.
He says his experience at LCCC was a rewarding one. Some of his biggest takeaways were: "Listen to the teachers. Follow directions. If you have questions, just ask. Ask every single question you have. That curiosity will give you the 'aha' moment you'll never forget. If there was ever anything I needed to know, I reached out through email. It's an honor that I went to LCCC."