LCCC's New Vet Tech Teaching Facility Will Feature More Space for Classrooms and Animals
By Leanne Recla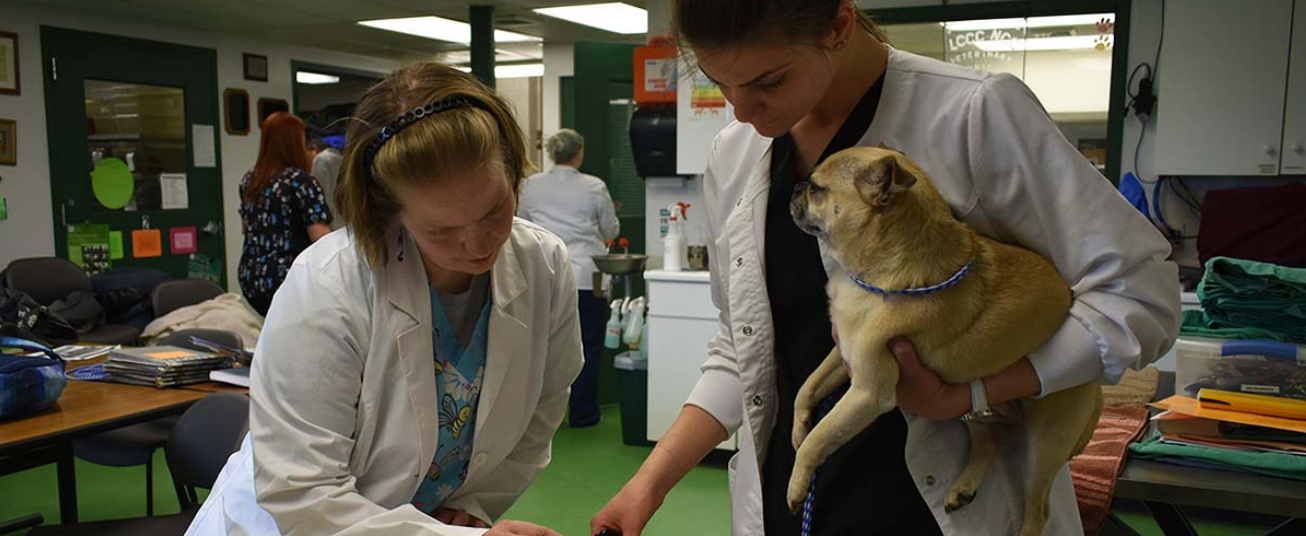 Not many classroom buildings need enough room for cows and horses.
But the veterinary technician facility at Lehigh Carbon Community College needs enough room not just for large animals, but for dogs, cats, rabbits, mice and even the occasional lizard – not to mention enough instructional space for the students.
So LCCC is constructing a new, 15,000-square-foot building at its main campus in Schnecksville, giving both students and animals plenty of room while helping to meet the growing demand for certified vet techs in the Lehigh Valley and beyond.
"We have 100 percent job placement. We can't put enough vet techs into the workforce," said Dr. Lisa Martini-Johnson, LCCC's vet tech program co-director and advisor.
Vet Tech Program at LCCC
LCCC's veterinary technician associate degree in applied science started just over 20 years ago, in 1997. The courses – taken full time over two years – teach the students vital skills for working in a veterinary hospital, such as performing exams on large, small and exotic animals, assisting with surgery and anesthesia, disease management and comprehensive animal care.
"There's so many avenues that these students can follow for their careers," Martini-Johnson says.
The program focuses on laboratory instruction and clinical experience – before students are even considered for the program, they are required to perform 20 hours of shadowing in a veterinary facility, giving them real-world exposure to ensure that they fully understand the role and responsibilities of a veterinary technician.
Then, the two-year program ends with a summer senior externship course that places students at a local veterinary facility, allowing them to apply the clinical skills they developed during classroom instruction.
"The externship is to enhance everything that they've learned in the program. Because they are going to be assisting in surgery, and monitoring anesthesia, taking radiographs, starting animals on fluids, everything that they learned in those two years, the externship helps them refine those essential skills," Martini-Johnson says.
The program's experienced faculty also works with the community to provide unique learning opportunities for the students. During the large animal course, for example, students visit the nearby Lehigh Valley Zoo to gain experience and exposure to working with sheep and goats.
"All of our professors are so personable and willing to help," says vet tech student Emily Johns. "They help you to achieve your potential. They don't baby you through the program, but they show you what you can do."
A Growing Field
When students complete the program, they are eligible to take the Veterinary Technician National Board Exam. A passing grade makes the student a licensed/certified veterinary technician in Pennsylvania, and LCCC's program has a 92-percent pass rate – the highest in Pa.
The certification demonstrates the student's level of skill to a potential employer. Some veterinary practices are also required to employ a certain number of certified vet techs, making the graduates even more desirable in the job market.
"After the interview at my first externship site, they said, 'We're looking for techs when you're done with this program,'" says Johns, who completed her coursework in May 2018 and is finishing her externship over the summer. "Hearing that is really nice, to know that with the higher demand, employers might even be willing to pay more. It's a good feeling that hospitals want more technicians."
Employment of veterinary technicians is projected to grow 19 percent from 2014 through 2024, according to the U.S. Department of Labor. In the Lehigh Valley, there is a projected 37.4 percent growth in vet tech jobs between 2012 and 2020.
Program graduates go on to work in various locations, such as private practice (both large and small animal), wildlife rehab centers and zoos, colleges of veterinary medicine, pharmaceutical companies and animal shelters. They can also go on to earn a bachelor's degree or continue their education through the National Association of Veterinary Technicians in America, which offers specializations like anesthesia and emergency care.
"I probably will specialize at some point, but I like that you get to do everything in the job. So even if I specialize, I'm still going to be monitoring patients in surgery, and also anesthesia, and drug calculations, and building relationships with clients and patients," Johns says.
More Space for Animals and Instruction
The main goal of LCCC's vet tech program is to support the high demand for certified veterinary technicians, and that's where the new teaching facility will really shine.
With 15,000 square feet of space, the facility will allow LCCC to expand its program to eventually accept 72 students per year, nearly double its current maximum of 40.
The building will be located near LCCC's Broadcasting/Sound Studio along Education Park Drive. One of the benefits of the new location is the increased space both inside and outside to house large animals like horses and cows. Instead of having two horses at a time, the building will be able to house four or five.
"The whole design of the facility mimics a contemporary veterinary hospital or larger veterinary center," said Larissa Verta, dean of LCCC's School of Sciences, Engineering and Mathematics. "So the students are really getting that experiential learning environment."
Students are also responsible for the ongoing care of the animals while they are in the program, whether that is cats, dogs, rabbits or horses.
Because of the available space in the new facility, those animal care duties will be much easier to fit in among the many labs and classes that occur throughout the day.
"The facility will be state-of-the-art, and it's going to enhance classroom instruction. We'll be able to have the lab animal courses going on at the same time as the radiology and surgery course," Martini-Johnson says.
The building design includes enough space for two labs to occur at the same time as other laboratory clinical instruction, while the program's current facility only allows for one class at a time.
New technology will also be implemented in the facility, including five computer workstations that will allow students to take notes and record data in a way that mimics how they would complete that process in a veterinary office.
Students should be able to start using the building in Spring 2020. LCCC's next step is to submit the paperwork to North Whitehall Township to request to build the new building. Once the approval is received, construction work can begin.
In the meantime, vet tech students continue to use LCCC's current facility, and 24 students graduated from the program in May 2018, with another group of students ready to start in the fall.
"This is a tremendous program," Johns says. "I couldn't have asked for a better experience."