Veterinary Technician A.A.S. (VET)
Earn your Veterinary Technician associate degree from LCCC.
What

I

s a Veterinary Technician Program?
Veterinary technicians are professionals knowledgeable in the care and handling of animals, basic principles of normal and abnormal life processes, routine laboratory and clinical procedures, and veterinary medical and surgical nursing. Graduates of this program are prepared to sit for the veterinary technician national board examination. Students who pass the exam may obtain certification. 
​The Veterinary Technician Associate Degree program is accredited by the American Veterinary Medical Association Committee on Veterinary Technician Education and Activities (AVMA CVTEA). 
Classes are held on Northampton Community College (NCC) and LCCC campuses. There is a clinical science laboratory on NCC's campus and a veterinary teaching facility adjacent to LCCC's campus provided exclusively for the veterinary technician students. Classes are offered during the day, and the program takes two full years to complete (fall, spring, and summer). 
Lehigh Carbon and Northampton Community Colleges' Veterinary Technician National Exam (VTNE) Results:
| | |
| --- | --- |
| Three-year average pass rate | Total July 1,2020 — June 30,2023 |
| Number of first-time candidates that have taken the VTNE | 71 |
| Three-Year Pass Percentage on VTNE | 79% |
Program Director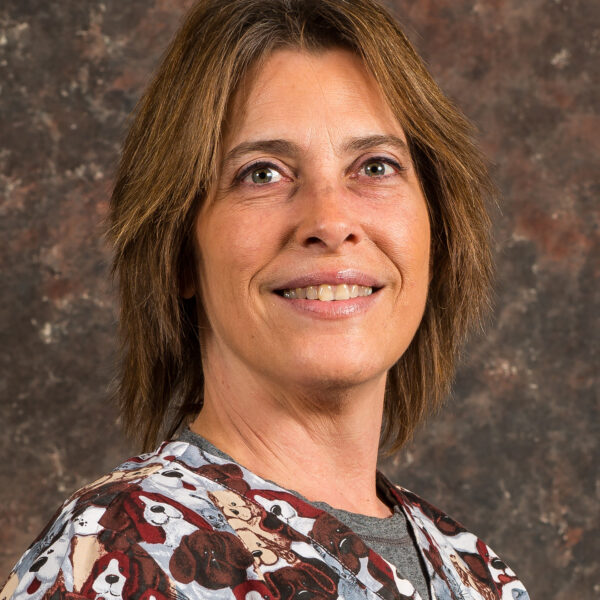 Lisa A. Martini-Johnson
Director Veterinary Technician Program
Schnecksville, PA
Veterinary Technology Courses
LCCC provides academic and practical experience through a combination of veterinary technology and general education core courses. One-third of veterinary technology courses include laboratory experience including exposure to small, large, and exotic animal species. The culminating experience of the program is a summer externship experience during which you can practice your clinical skills at veterinary hospitals.
Coursework will provide you with a foundation in:  
Veterinary Anatomy and Physiology

Large Animal Clinical Procedure 

Small Animal Clinical Procedure

Veterinary Surgical and Nursing and Anesthesia 

Lab Animal Science and Exotics
Veterinary Radiology
What Can I Do with a Veterinary Technician A.A.S.?
According to the Bureau of Labor Statistics, the job outlook for veterinary technicians and technologists is expected to grow 20% in the next decade.  
Certified veterinary technicians are employed in veterinary clinics serving large, small, and exotic species. In addition, graduates are employed as veterinary assistants in pharmaceutical settings, research laboratories, animal feed companies, wildlife and zoo centers, and animal shelters.  
Four-Year Transfer Schools
Pennsylvania offers statewide program-to-program articulation. This allows students who graduate with specific associate degrees to transfer as juniors into a bachelor's degree program in a similar field of study at a participating four-year college. Learn more about transferring to a four-year school.
Your Associate Degree in Veterinary Technician prepares you to transfer to the following four-year colleges or universities: 
Special Admissions Program Requirements 
Before Admission:
High school diploma or GED and successful completion of appropriate high school or post-secondary courses

 

Completion of high school laboratory biology with a "B" or better, and high school algebra 1 and 2 with grades of a "C" or better; fundamentals of biology (BIO 105) is highly recommended if a college-level biology course has not been previously completed

 

Submission of high school transcript or copy of GED and transcripts from all post-secondary institutions attended

 

Acceptable scores on the LCCC assessment test (English, Math and Biology); any remediation must be completed before starting the program

 

A minimum GPA of 2.5

 

Knowledge of field gained through experience with animals strongly recommended

 

Selected students will participate in a personal interview with the program director; LCCC will contact you to schedule an interview

 

At the time of the interview, you must have completed a minimum of 20 hours of observation in a veterinary facility; you will be asked to verify this using our career exploration form or virtual shadowing form

 
After Admission: 
Medical forms: physical examination

Proof of current health insurance

Rabies pre-exposure vaccine

 
The deadline to apply and submit required items is March 15.
1.Complete an online application for admission to the college.
2.Complete a Veterinary Technician Application.
3.Submit an official copy of your academic records: High School Transcripts, GED Certificates, and College Transcripts. Transcripts must be sent directly from the school to LCCC by email to: registrar@mymail.lccc.edu, or to the address below:
Office of Registration/Student Records
Lehigh Carbon Community College
4525 Education Park Drive
Schnecksville, PA 18078
4.Complete Career Exploration Form or Virtual Shadowing Form  . Note: Applicant's observation hours as required on the Career Exploration Form must have been completed within the past year. Additionally, current observation hours are only valid for this year's application and may not be used again for future applications.
5.Schedule and complete the LCCC Skills Assessment Test (Reading, Writing, and Mathematics)and Biology Placement Test. Please email: testingcenter@lccc.edu to schedule.
6.Make an appointment to meet with an advisor to review your Skills Assessment Test results. The advisors will help you schedule any necessary developmental or prerequisite course work. Email: adviseme@lccc.edu.
7.Application Review: Your application will be reviewed and the most qualified applicants will be invited to attend an informational session and personal interview with a program representative. Please note that not all applicants will be interviewed.
8.Please be sure to keep your address and phone number current with the college so that contact can be made regarding your application status. Also, be sure to check your LCCC email regularly. Students who are offered a seat in the program are required to attend a mandatory orientation session in addition to the standard LCCC new student orientation.
If you have questions, or need assistance with the application procedures, please email restrictedprograms@lccc.edu
State Licensing Requirements

 



Veterinary Technician licensure is unique to each state. The below information is meant to provide a resource. This is not a definitive list of the requirements for Veterinary Technician Assistant licensure. Please refer to the appropriate State Board for full requirements for application.