LCCC Students Combine Their Talents to Start a Production Company
By Leanne Recla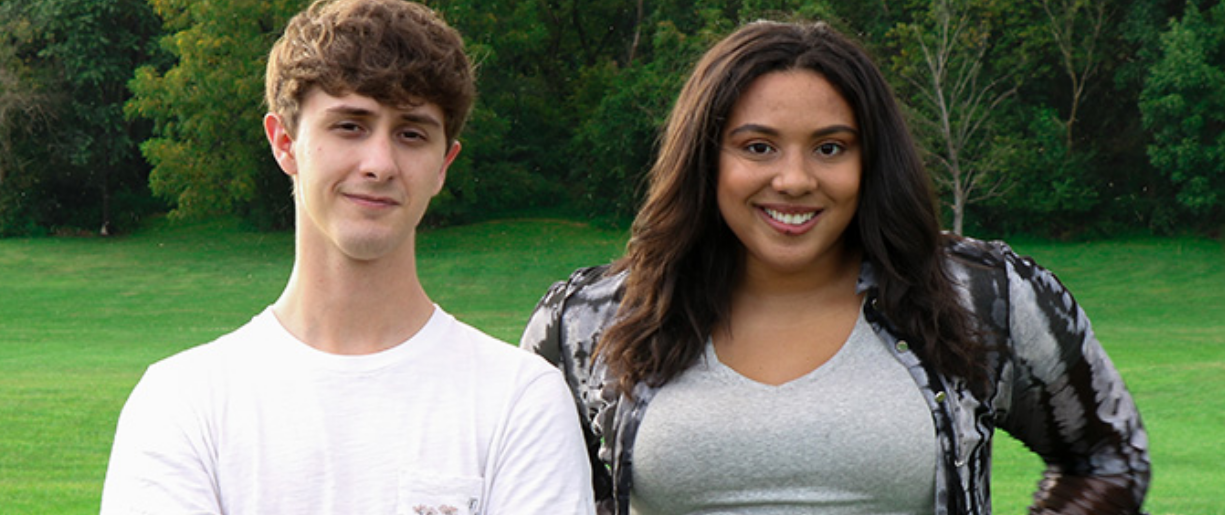 A group of friends at Lehigh Carbon Community College are the perfect example of making the most of opportunities in life.
The group has pulled together their individual skills and passions to create a multimedia production company that evolved from a podcast started during their time at LCCC.
"We wouldn't be where we are today if we didn't have the opportunities to learn and grow in the communications, TV/film and radio departments," said Amresse Farrow, communications director for Lab Two Twelve, which is named after a room in LCCC's Technology Center building.
Learning at LCCC
Chandler Davis, CEO of Lab Two Twelve, started at LCCC in 2016 and quickly learned that LCCC offers more than just college courses.
"Students make the mistake of taking their classes and going home, but they're not taking advantage of everything available to them," said Davis, who graduated in May 2019 with an associate degree in TV/Film. "My favorite part of LCCC was that I came here to do classwork, and I also managed to accomplish so much outside those classes, using the technology and equipment available to me."
As Davis and Farrow moved through their coursework from semester to semester, their skills and confidence grew thanks to the work they were doing in class. They also met the friends who would eventually become their business partners: Zak Gerhart, chief audio engineer and chief operating officer; Patrick Lilly, content strategist; Sam Keenan, art director and writing supervisor; Lizzy Kates, chief video editor; and Josh Brennan, director of photography.
"The relationships I made here went above and beyond what I ever expected," said Farrow, who is working toward an associate degree in communications. "The faculty does a great job of fostering relationships and opportunities for students."
Wendy Barron, professor of media communications and coordinator of Communications, Media and the Arts, worked closely with the students during their time at LCCC.
"I am proud to see how these students embraced opportunities both inside and out of the classroom," Barron said. "They now return to the classroom as guest speakers to inspire current students with stories of how their classroom projects and extracurricular activities evolved into careers."
The company's beginnings
Like many startups, Lab Two Twelve began with a small project, when Davis started recording a podcast in his bedroom.
"People said they liked it, so we eventually got a time slot at WXLV (LCCC's iHeart radio station).
Lilly then joined the group, and Brennan, who was the president of LCCC's film club at the time, started filming the recording sessions. Gerhart eventually joined the recordings, and Keenan and Storm Hutchinson created the logo for the podcast, named "The Poorly Edited Podcast."
"It was random happenstance and getting connected with friends of friends," Davis said. "None of it was manufactured or planned, but that's almost the point. You can't force relationships or circumstances like that. You have to roll with the punches and be open to change."
As the podcast's popularity grew and the group interviewed more and more musicians, they became more familiar with the challenges that artists face at the beginning of their careers.
"We learned that there were things we could do, based on our skill sets, to help boost their careers more than just interviewing them. We felt we had services to offer, like communicating with fans, doing photo shoots and creating covers for them," Davis said.
Davis shared some of his ideas with Tremayne Tatem of LCCC's Entrepreneurship & Innovation Hub, and Tatem encouraged Davis to create a business plan and present it during an Idea Pitch Challenge event hosted at the college.
"Chandler's business plan definitely had potential. He and his team had an operating project that just needed a little push to take it to the next level," Tatem said.
Davis and the group presented their idea during the Idea Pitch Challenge and won third place.
"Talking to that panel of judges, that was really the start of putting ourselves out there to see if we had something. Since we got a good reception, we figured we would keep going," Davis said.
Growing the business
Davis began the official process of creating Lab Two Twelve as a company in May 2018.
"I would tell people that I accidentally started a business, because that's really how it felt," Davis said. "I never thought of myself as an entrepreneur, but we realized that there was a need to be filled in the area, and that we could offer something that had real value. Then, we just did the work."
The group has since helped a variety of musicians, artists and filmmakers grow their fan base. Farrow joined the group to support clients' communications and social media, and they continue to produce an episode of The Poorly Edited Podcast every week.
"We bring people on the show because we're genuinely interested in what they're doing, and that fosters a connection that is real and tangible, not superficial," Davis said. "It makes them comfortable with us, and it's an easy transition to working together on the business side of things. Building that network hasn't been anything we've had to fight for, it just happens naturally."
As the group looks forward to expanding their rapidly growing business even more, they continue to build their skills and encourage others to do the same.
"I went from someone who had a hard time talking to strangers to easily interviewing people on the podcast," Davis said. "We didn't start being good at any of this, but we did it because we loved it. It's hard to take that first leap, but you just have to do it. I hear so many people be afraid to start something because they know they'll be bad at it, but then you're never going to get better."
For more information on communications, media or arts programs at LCCC, contact Barron at wbarron@lccc.edu or 610-799-1729.