LCCC Spring Commencement Speakers
By Sara Karnish

Lehigh Carbon Community College (LCCC) selects two students—one traditional, one adult learner—to speak at Commencement every year. For Commencement 2021, Rose Reyes and Jamie Knerr were chosen for this honor.
Rose Reyes – A Passion for People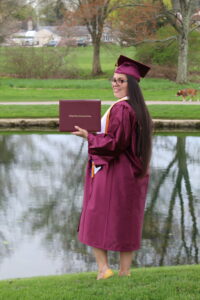 Rose Reyes has a passion for people, and as a busy mother of four (ages 26, 18, 12 and 7) she is skilled at multitasking and solving problems. LCCC's human resource management program was a natural fit for her interests and intended professional path. Reyes, of Bethlehem, already has an associate degree in Business Management and had been a supervisor, but says she wanted to go in a different direction. "Human resources is more of helping people accomplish their goals, even though you still have to implement regulations," Reyes says. "If you need help, I'm going to help you." Reyes received her Associate in Applied Science degree in Human Resource Management. She says she chose LCCC for a few reasons: "First was the convenience. It also offered the degree I was looking for. I looked at numerous schools, but none of them had the HR degree."
Balancing the demands of schoolwork and family life can be challenging. Reyes says there were times she got overwhelmed, but her family kept her motivated. "There were times when I felt like giving up. [My family] told me they believed in me, and that kept me motivated. It got difficult at times—I have a lot on my plate. My family encouraged me to take breaks, but they told me I could do it." Reyes offers fellow students the same advice. "There are always difficult times, but you have to learn how to overcome hurdles. There are times when we see a wall, but right behind that wall is the reward. We have to break the wall down to get the reward we want, those opportunities we want in life."
Looking back on her time at LCCC, Reyes says she wishes she would have gotten more involved in campus activities, noting the importance of networking and meeting new people. "I would have enjoyed more clubs. It was difficult because of COVID," she admits. Her goals for life after LCCC include continuing her education. "All teachers say to continue studying, there is always more to learn. It's true. Even professors continue to study and learn. The more you know, the better the chance you have at life."
Reyes is excited about her next chapter, but for now, she's ready for a breather. "I'm planning to take a break until spring of next year, then I'm going for my bachelor's in human resource management," she says.
Jamie Knerr – Stay Motivated
As the saying goes, "Opportunity knocks," and Jamie Knerr of Slatedale tries to open that door every time.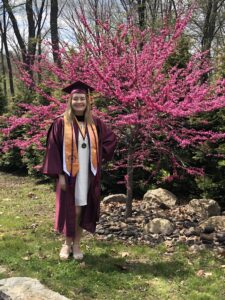 Knerr will graduate from LCCC with associate of arts degrees in Communication and Business Administration. On why she chose LCCC: "I don't think I was ready to make the transition to a four-year college. I was accepted into the Honors Program at LCCC, and I couldn't pass up that opportunity."
Knerr had entrepreneurial ambitions in high school, which led to pursuing the business degree in college. "I went to Lehigh Career and Technical Institute (LCTI) and received my cosmetology license in my junior year of high school," she explains. "I knew I wanted to pursue business, or open a salon one day, or whatever side of business that brought. And communication, I knew I could use that anywhere in the field and I knew that was a great background to have, so I thought, 'Why not?'" Knerr took several dual enrollment courses at LCTI and says she had over a semester's worth of college courses completed by the time she set foot on LCCC's campus. "I did many of the business classes in high school, so I've been focusing on the communications classes this spring," she says. Besides carrying a full course load, Knerr was selected for the All-Pennsylvania Academic Team and served on the Student Government Association. She has always had a strong sense of internal motivation and says she pushes herself to do the best she can. "I have an amazing support system in my family. I have two older sisters, and I've always wanted to live up to the great things they were doing."
As if being an active, full-time college student was not enough, Knerr also works part-time. Good organization and time management skills are essential for a schedule like Knerr's. She works at Dunkin from 4 to 8:30 a.m., then starts class after 9:30 a.m. "I abide by my planner and sticky notes. Every day I stick to my schedule, and I don't stop until things are done. Just the act of crossing things off my list feels good!"
Knerr says she wouldn't change anything about her experience at LCCC. "I've felt really fulfilled these past two years. I've loved everything, the classes I've taken, the things I've done. This was the right place for me. Everything that's been done in the past two years has led me to this moment. I feel really proud of what's happened the last two years. If there's anything I would change, it would be the pandemic. I remember going to the first Student Government meeting and being in person, and I wish we would've had in-person interaction. I think that would've been so amazing."
She will continue her education at East Stroudsburg University this fall. She received a full scholarship as a member of the All-PA Academic Team and plans to study business management. "I'm planning to be back on campus in the fall. I'm hoping to adjust to campus life, and see where it takes me." Knerr doesn't have a clear career in mind, but hopes something will spark her interest at ESU. "I'm hoping the next two years of internships and classes, will help me decide."