LCCC Receives Two Major Gifts
By Linda Baker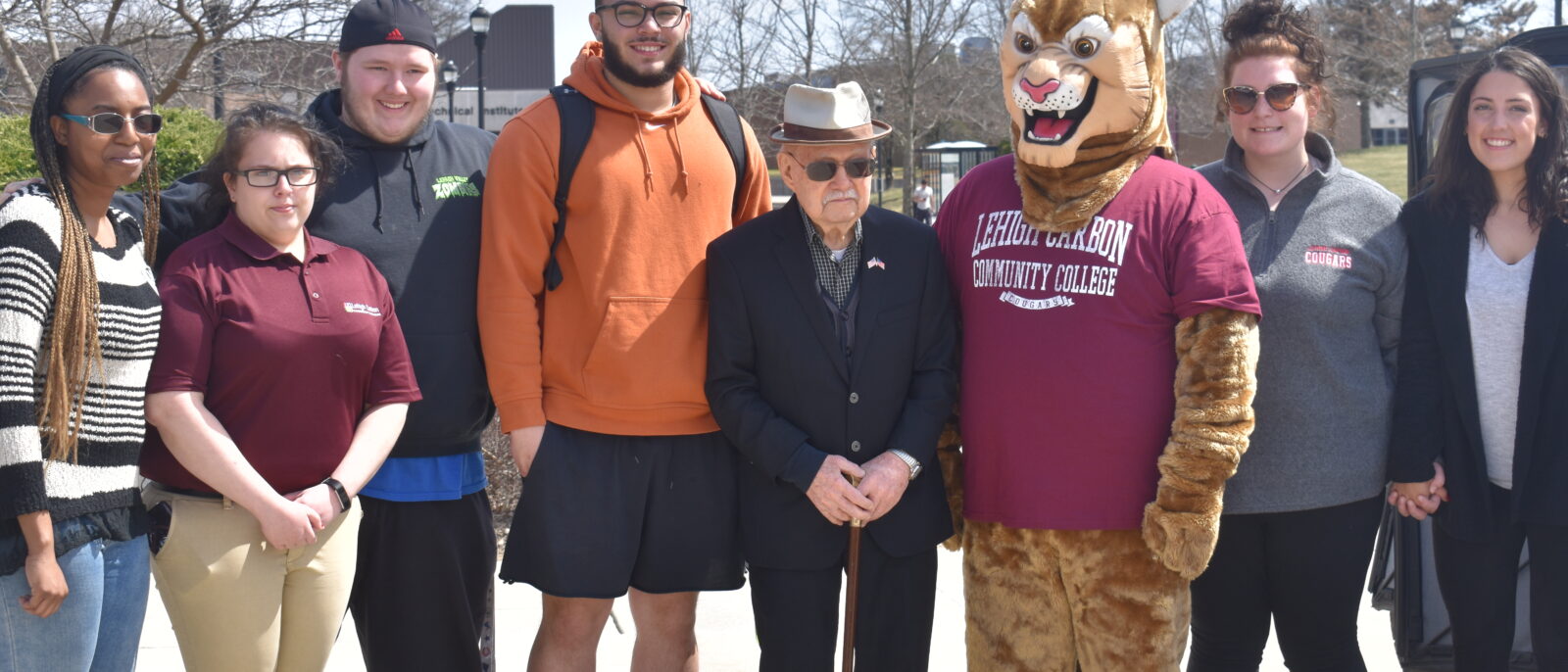 LCCC Receives $1 Million Contribution from Former Pilot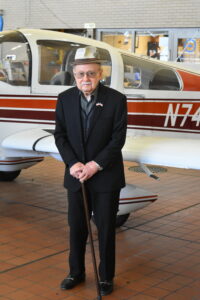 Nevin Earl Remaley had been retired as a professional airline pilot for 45 years when he died in June 2020, but he never lost his passion for flying. Now, thanks to his $1 million gift to LCCC, future pilots will have scholarship support for their journey, with funds designated to support flight training.
Figuratively, this gift fell from the sky, and was the beginning of a connection between Mr. Remaley and LCCC. His name will become an everyday sight when the Technology Center on the Schnecksville campus will be renamed in his honor, with a ceremony and dedication planned for later this year.
Mr. Remaley didn't marry and had no children, but he leaves a legacy that will have an impact for generations. Originally from Lehighton, he attended Lehighton Area High School and before graduation enlisted in the U.S. Navy. He attended the Naval School of Electronics and was an electrician on a landing craft tanker. He served during World War II, fighting in the battles of Iwo Jima and Okinawa. He received an honorary discharge in 1946.
He earned his bachelor's degree in corporate accounting and business administration from the Allentown Business School, then worked for a New York brokerage firm, where he sold stocks and securities on Wall Street. He became hooked on flying after flying a trainer Piper Cub out of the Lehighton Airport. He went on to become a commercial airline pilot for Allegheny Airlines and U.S. Airways and retired as a captain after 25 years.
"It all started when Jake Arner, owner of Arner's Flying Service in Lehighton gave Mr. Remaley a chance to fly over the Lehigh Valley," said close friend and trustee John E. Hofkes.  "From that point on Mr. Remaley said he was hooked on flying.  He said, 'I owe my flying career to Mr. Arner and the GI Bill.' His life-long dream was that one day he would be able to pay it forward by helping future aviators learn how to fly through the Nevin Earl Remaley Aviation Scholarship Fund."
Mr. Hofkes worked with him to plan his legacy, even though Remaley would often jokingly tell him "If I can't take my money with me, I ain't going."
"I suggested helping other young pilots," said Mr. Hofkes. "I knew that LCCC had an aviation program so I called to do some checking. The way the college treated him on that visit, and how you rolled out the red carpet for him made an impact."
A visit was planned in the spring 2019 for the aging Mr. Remaley, including a tour of the airplane hangar and a visit to the main campus, where he was greeted by Clawrence the cougar mascot, a group of students and staff, and escorted by security in one of the golf carts. This visit and the visible commitment to student success swayed Mr. Remaley and Mr. Hofkes that LCCC would be a worthwhile recipient of funds that would support students.
"Mr. Remaley had a passion for flying and wanted to ensure that others had the opportunity to pursue their dreams," said LCCC president Dr. Ann D. Bieber. "The college is honored to be able to carry on this legacy for a man who lived a long and fruitful life. LCCC students will benefit greatly from his generosity."
Described by Mr. Hofkes as a "gentleman's gentleman," Mr. Remaley led a colorful life. He split his time between his farm in Lehighton and his condo in Florida. Small in stature and a dapper dresser, he walked with a cane in his later years and wore a chapeau. "He kept to himself," says Mr. Hofkes. "His social life was dining out seven days a week and flirting with the waitresses who enjoyed his company. When we met, our lives changed. For me, he became the dad I never had. We became his family and he thought my wife, Mary, was a queen. Our relationship became like family, based on trust."
The two met at a Florida marina when Mr. Hofkes asked to borrow a wrench. Working on his boat in a lift above the churning ocean below, he tied the tool to his wrist with a fishing line to keep from dropping it. "When Nevin saw that, he said he knew he could trust me. He never expected to get his wrench back, but saw that I was someone he could trust."
Mr. Remaley had lived in a senior living center the last two years of his life, and told Mr. Hofkes that he wanted the words "He lived" etched on his gravestone to commemorate his surviving the Christmas Eve 1968 crash of Allegheny Airlines Flight 736 bound for Bradford (Pa.) Regional Airport, which killed 20. He had given up his jump seat to another off-duty pilot and taken a seat in the rear of the plane, a decision that saved his life. Remaley survived and helped to pull survivors from the wreckage. All of his fellow pilots perished.
He enjoyed boating and sailing and could identify any song from the 1940s after hearing just a few notes. Other beneficiaries of Mr. Remaley's generosity include the Lehighton Boys and Girls Band, to carry on his love of music, and the Zion United Church of Christ in Lehighton in memory of his parents Lee and Dora Remaley. He is survived by several nieces and nephews.
"We were so blessed that he allowed us to love him," said Hofkes.
Former Professor Donates Nearly $1 Million Gift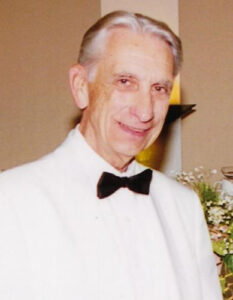 Clifford F. Miller, one of the first professors hired to teach at Lehigh Carbon Community College (LCCC), has donated a gift of nearly $1 million to the college to be used for scholarships for students studying technology. In recognition of this contribution, the Student Services Center on the Schnecksville campus will be renamed the Clifford Miller Student Services Center. A dedication and naming ceremony will be held later in 2021.
Miller was hired in 1968 to teach mechanical technology at LCCC and retired on May 31, 1987. He was named professor emeritus in 1999.
A native of Reading, Pa., Miller graduated from Reading High School in 1940 and attended Wyomissing Polytechnical Institute. He was an Army veteran, having served during World War II. Over his lifetime, he had two careers, first working as a draftsman for Textile Machine Works in Reading before retiring in 1958 as a senior designer. He taught mechanical drafting at William Allen High School from 1958 to 1968, before joining the faculty at LCCC. Miller earned his bachelor's degree in education from the University of Pennsylvania in 1963 and his masters of education from Temple University in 1966.
Miller died in April 2020 at the age of 94.
His good friend and former colleague Thomas Tate, also a retired LCCC professor, says of Miller "he was always such a genial, fun loving guy. He always loved a good joke, and he taught me so much about mechanical engineering."
Miller and Tate shared a row of desks back in 1970 when Tate started teaching at LCCC, but says he didn't get to know Miller well until the two retired. "As time went by we got closer, and we talked about some of the things I was interested in that dealt with engineering. We'd meet monthly for breakfast, a bunch of the retired professors. "
"Cliff Miller was one of the first faculty to devote time and dedication to start the Technology Department when LCCC was just a small college housed in the Lehigh County courthouse," recalls James DePietro, LCCC professor who replaced Miller after he retired. "He was such an innovator and had a tremendous passion for teaching students. His love for cars was evident in his design classes as his former students said he always could turn a classroom discussion to car talk somehow, someway. He also was one of the first instructors in the valley to introduce CAD into the classroom, as he partnered in a pilot program with the school of engineering at Lehigh University."
"Mr. Miller was immensely dedicated to LCCC students and the community, even after his retirement," said LCCC President Dr. Ann D. Bieber. "This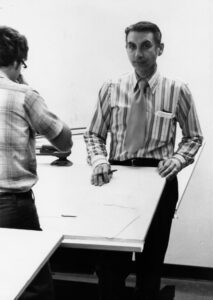 gift is an example of his commitment to them. He understood the benefits of higher education and especially community colleges. He valued that students in his classes were likely to remain locally for work and had a positive impact on the economic development of our region."
When asked what LCCC meant to Miller, Tate explains "I think it meant quite a bit to him, his wife was a teacher and he knew some people in education," said Tate. "He and his wife didn't have any children, so I think in a sense his students were kind of a surrogate family for him."
Both part-time and full-time students will be eligible for the scholarship, with preference to students studying in technology fields.