LCCC Commencement Student Speakers and Student of the Year Honored
By Megan Sciarrino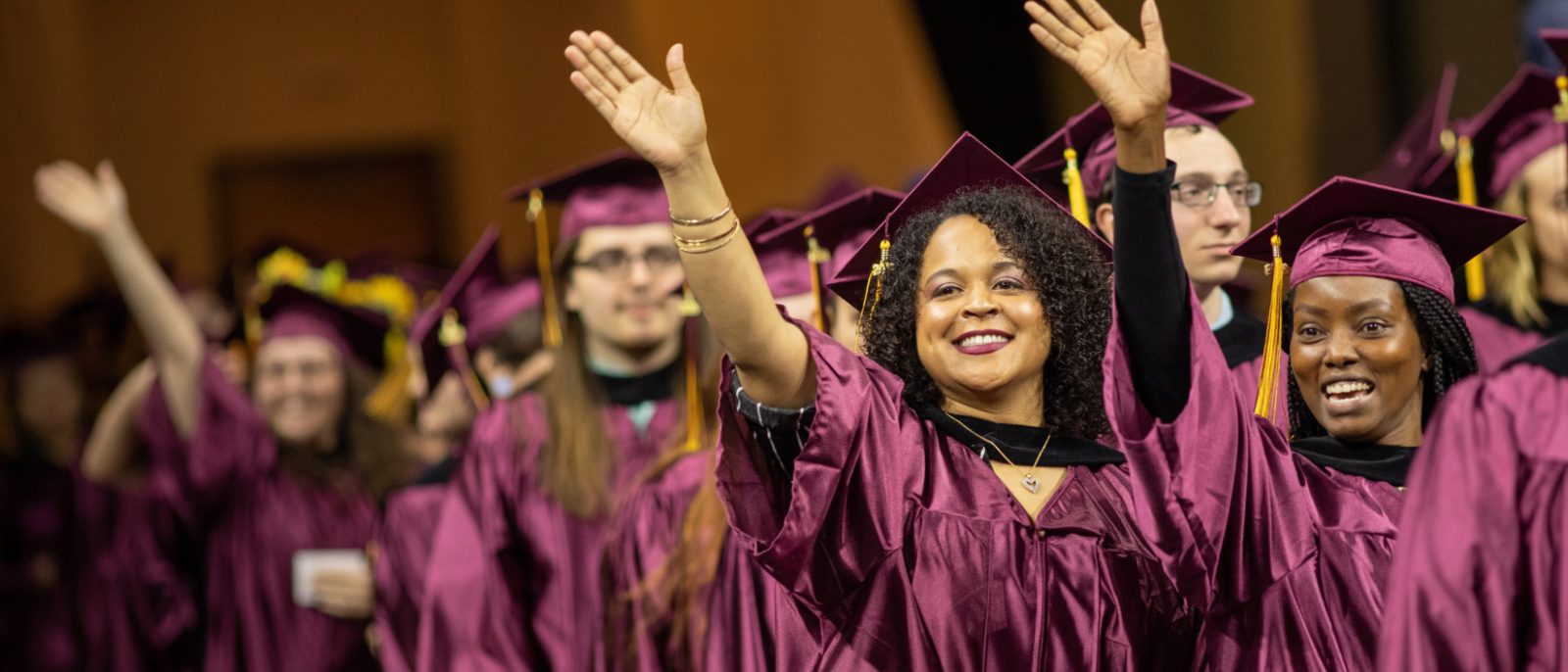 Jenny Pacanowski, a veteran, nonprofit founder, writer and performer with a ready affinity for the stage, and Daniel Melin, an aspiring science fantasy novelist who recently arrived at his proving grounds, are worlds apart when it comes to lived experiences, trajectories, and certainly, comfort zones.
But the alumni share an amazing capacity to inspire others, which is why Lehigh Carbon Community College selected them as its student speakers for the 53rd annual Commencement Ceremony, where the two shared their personal stories with 900 of their peers virtually, on Wednesday, August 12, 2020.
Jenny Pacanowski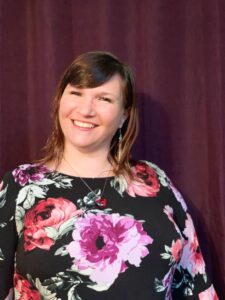 Growing up, Pacanowski realized she had a voice that could carry without a microphone and was called to explore the arts, but her parents insisted she study something more stable, in their view.
After many false starts at various college degrees, plus racking up significant student debt, Pacanowski joined the Army and was deployed to Iraq in 2004, where she served as a combat medic.
Coming out of the military, she found herself unexpectedly financially insecure and struggling emotionally from her wounds of war. This pulled Pacanowski into nearly a decade of self destruction, but ultimately, she returned to the arts to help process her pain.
It was important to her that other women combat veterans have the support she so desperately needed, and that led her to form Women Veterans Empowered & Thriving (WVE&T), a nonprofit organization that uses writing and performance to help women veterans reintegrate into civilian life.
Pacanowski entered LCCC through the vocational rehabilitation program for disabled veterans and felt welcomed by the veterans affairs and admissions staff. Their guidance helped her graduate with an associate of arts degree in general studies to bolster her direction of WVE&T, plus put her on the right path for a future master fine arts degree.
"From the moment that I met Leslie [Bartholomew] and Diane [Stanus], and Mary Black had become my advisor, it was like joining a close knit community that was like the veterans community that I was already a part of," says Pacanowski. "They were as passionate about helping veterans integrate into college as I was about helping veterans reintegrate into life."
For Pacanowski, being a commencement speaker meant one more channel to share her story. She was active in the LCCC Veterans Club, serving as its president her last year. She transferred to Moravian College, where she is pursuing a bachelor's degree in integrated studies with a minor in theatre. She is also very involved in Moravian's theatre community.
Daniel Melin
As a child, Melin dug the idea of being a paleontologist, or maybe an actor, but by the time he was 13, he fell in love with fantasy novels and wanted to create characters and worlds for others readers.
He landed at LCCC as a communication major and soon learned that he would need to anchor his aspirations in the real world by actively engaging real people in real conversations, and that absolutely scared him.
Through the honors scholars program, interpersonal, intercultural and media studies, and influential professors, Melin found himself among people of like mind and discovered new facets of himself. He learned to share his voice and thrive.
Melin recalls one of his first journalism assignments covering a local 5k run.
"I was terrified of interviewing people and asking them questions. I wasn't aware I would actually have to interview people and report things," says Melin. "I was so nervous. I approached the first person I wanted to interview, and I didn't introduce myself to her, totally stumbled over my words, basically made a complete fool of myself."
A friend encouraged Melin to try again, saying "If you want to be a communication major, you need to communicate with people!"
The result was what Melin considered his first-ever truly hard-earned A, and to have it come from professor Ed Rabinowitz, who Melin says has a reputation for being a tough grader, was transformational.
"He handed my paper back and I saw my A and I let out this little 'Yes!' because I was so happy and he pretty much told me 'Well, don't get used to it.'" says Melin. "This is where my drive to really do well in school started, and as a result, my drive to do well in life."
Melin went on to become the editor of the college newspaper, The Paw Print, his final semester and his confidence in communicating and writing had reached a new level.
Melin says it was Rabinowitz who convinced him to audition to speak at commencement. "He said, 'You're doing this! Or else!'"
Melin transferred to Kutztown University and is majoring in professional writing. He feels like it was just yesterday that he was getting started at LCCC and was overwhelmed by everything in front of him. Today, he is eager, curious and able, and he says this is because of LCCC.
When it comes to what he'd tell others about LCCC he says, "I would highlight the professors and genuinely how much they care about their students' success."
Student of the Year Rodolfo "Rudy" Arroyo
Rodolfo "Rudy" Arroyo knows what it means to endure hardship, but it is not in his being to buckle in the face of adversity. In fact, it is quite the opposite for this big-hearted family man whose life challenges include military combat service and Hurricane Maria.
Arroyo graduated in 2020 with an associate degree in construction management, and to his surprise, he was honored as Lehigh Carbon Community College's Faculty Association Student of the Year.
Every year, the association's executive team solicits faculty to provide names of students deserving of recognition because of academic accomplishment, personal perseverance, community involvement, and other such traits, and Arroyo, an adult student described as hard-working, honest, self-sacrificing and kind, beyond fit the bill.
The modest Arroyo didn't fully grasp that he was worthy of this honor, but he was no less grateful. He says, "I honestly don't know why I was picked! I didn't do anything special."
During the 53rd annual Commencement Ceremony that took place virtually on Wednesday, August 12, 2020, Arroyo listened to the remarks about his recognition.
He says, "I showed my wife and she was so happy!"
A Need to Provide
Arroyo grew up in Puerto Rico. He was a child of divorce who was raised in part by extended family, and he himself became a father at age 16.
Determined to be a provider, Arroyo entered the workforce, and at age 19, he became a state police officer, but with internal corruption and a high-crime rate, he quickly decided it was not for him.
Arroyo says, "They told us in the academy, 'You guys have one leg in jail and one leg in the cemetery.'"
Called to Serve
In 1990, just one year later, Arroyo changed course and entered the U.S. Army. He served 11 years, and next joined the U.S. Air Force to serve another 13 years. Arroyo volunteered and participated in several combat tours in Iraq, Afghanistan, and other Middle East locations.
His years of service took a toll on him and his family. He retired in 2014 and settled in Bethlehem. He knew he wanted to pursue a college degree, but it was also very important to him to be home with his loved ones.
"I spent a great deal of time being away from my family when I was in the military. I've been married since February 23, 1990. In 2004, that was 24 years. Out of those 24 years if I spent eight years with my wife, that was a lot. I was always away. I missed a lot of my kids and now it's grandkids I'm dealing with. I wanted to be more present," says Arroyo.
Interrupted, but Staying the Course
The flexibility of LCCC's evening classes connected him with the construction management program, a choice intended to help him support his older brother, a Puerto Rico-based architect with design and build projects in the U.S. as well.
But then Hurricane Maria hit and interrupted the brothers' plans. In the aftermath Arroyo says, "The chance for me to work with him or for him really slimmed down."
Arroyo made personal and financial sacrifices to return to Puerto Rico to help his family recover from the hurricane, as well as some serious health issues, all while remaining committed to his academics.
An Academic Hurdle
Arroyo's military career conditioned him for what is called "bottom line up front" thinking.
He says, "It's embedded in me. Quick, simple, to the point."
For courses within his major, his hard-wired way of processing was not an issue, but it brought him only frustration, to the point of physical pain, he says, when faced with English literature.
"The story is not even two paragraphs and they want you to write two paragraphs … I just block, completely block," says Arroyo.
It took Arroyo three times to pass the course, and he says it was professor Scott Keim who motivated him to push through.
"He said, 'Let me check your record' and he saw that I got good grades and he said "Hey, if you put forth the effort I'll help you to pass" and I passed," says Arroyo.
Celebrating the Gift of Time
Now with a degree in hand, in the midst of a global pandemic, it seems as if life is off script once again for Arroyo.
But the career military man who wanted nothing more than to be home with his family says he finally feels like he's getting to be present, and he is making up for lost time.