Campus Community Called to Service
By Daniel Melin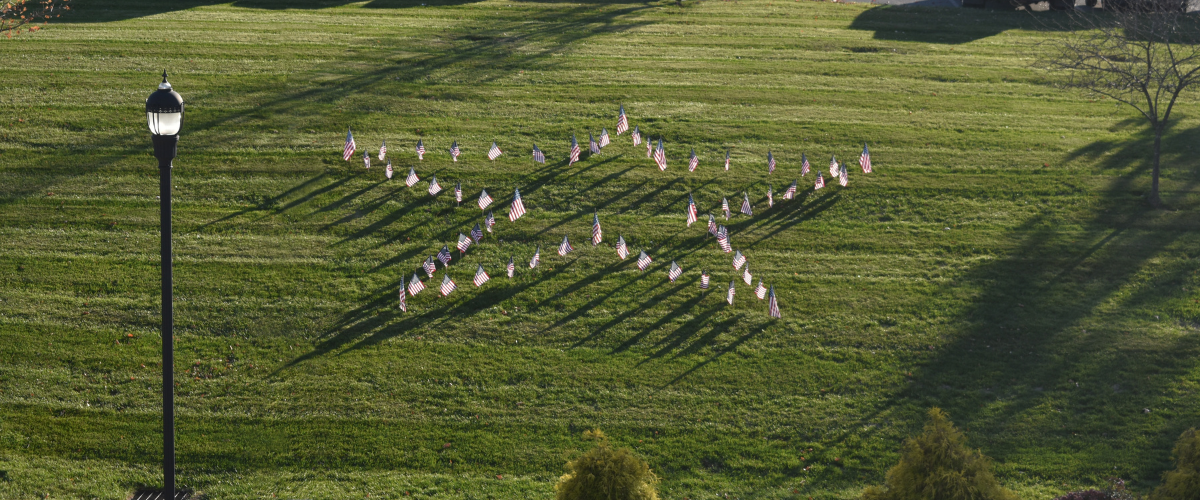 Many college students find ways to serve their community, whether through volunteer work, extracurricular involvement, or becoming student workers on campus. For other students, they serve their community on the largest scale—through enlisting in the United States National Guard. Serving the country through military duty is an experience like no other, but those who choose to serve while striving to complete their higher educational goals face a unique set of challenges.
Kaden Finch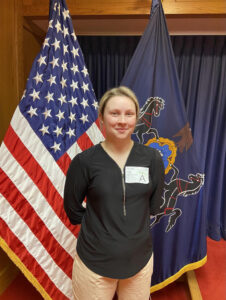 For first-year paralegal studies major Kaden Finch, LCCC offered many appealing benefits such as close proximity to her home, affordable tuition, and the ideal program for her. LCCC also connected her with a military recruiter, who reviewed the benefits of serving as a college student.
"I will have my loans and any tuition paid while I continue school," Finch says. In addition, she'll be receiving an off-peak bonus of $7,500 for being able to start her basic training before the summer. She says this, along with the prospect of earning an early retirement, inspired her to commit to the military.
Finch will be heading to Fort Jackson, SC, after the fall 2022 semester to complete her basic combat training and advanced individual training as a 42A Human Resources Specialist. In addition to working through obstacle courses, taking on challenging militaristic tasks, and learning to work well as a part of a team, she'll also be managing paperwork and contracts for new recruits. "I'll be [at the camp] for a total of five months," she says.
While taking a substantial break for her training, Finch does plan to return to complete her Associate in Applied Science degree before serving. She knows returning to school after training could be an adjustment for her, but she says she's prepared for the challenges that might arise with returning to what she calls "the civilian world."
The most important skill Finch will carry with her from LCCC into her training is the ability to be independent. "[At college], it's your responsibility to go to class. And same with your school work. You have to make sure it's done if you want it to be done." She says this same mentality applies to her combat training, where she'll be more independent than ever before.
In the months leading up to this new and exciting endeavor, Finch has her family to thank for their support of her both leaving for training and attending LCCC. "I've been through ups and downs in school," she says, "and they've been there for me, pushing me to my limits. Any time I need them, they're there to help me."
Finch advises prospective LCCC first-year students to learn to be independent through their classwork. "Show up to class and pay attention," she says. In her eyes, to be attentive in the classroom is to be attentive in life. And that, she says, will set one on a course for success.
Angel Mulero-Collazo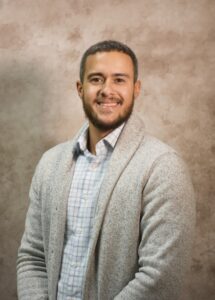 "Military needs come first." It's a key philosophy that Angel Mulero-Collazo, manufacturing instructor at LCCC, lives by. He had an on-and-off college education due to his 10-year service in the U.S. National Guard. "I started taking classes, and unfortunately I had to stop," he says. After his gap period, he completed his Bachelor of Science degree in Criminal Justice/Law Enforcement Administration from the University of Phoenix in 2020.
Reflecting on his initial interest in the military, Mulero-Collazo says it started with watching military films when he was younger. "It eventually evolved into something that was actually a personal interest as I got older," he says. He served in active duty from 2008 to 2012, and then again from 2016 to 2018.
Mulero-Collazo carried many things with him from his time in the military that have helped him as an instructor at LCCC. "It improved my independence," he says. "It improved my confidence to do things that I've never done. It improved my networking because communication is everything." As an instructor, he knows that he's on the front line of his students' academic success. The self-sufficiency he gained from his time in the service has helped him take charge of making sure his students gain the most from his classes.
Mulero-Collazo is also a lifelong learner, even when he's the one teaching. He earned the same PMMI Mechatronics certifications at LCCC that he teaches classes for including Fluid Power 1, Industrial Electricity 1, Mechanical Components 1, and Programmable Logic Controllers 1. As an LCCC employee, he appreciates the opportunity to earn those certifications to help inform his teaching. "In order to become a better instructor," he says, "you have to learn the material you're teaching."
When he was a student himself, Mulero-Collazo further developed the values his parents instilled in him from a young age: work hard, strive for success, and communicate. They also gave him an "understanding that nobody's handing you anything. If you want something, [you have to] go get it." Sticking by this virtue throughout his schooling and service has prepared him to take on even more of life's challenges. "I'm knocking down doors and stepping into places my family's never been."
Mulero-Collazo plans to return to the National Guard in January with high goals of entering the pilot program and, in turn, becoming a pilot for attack rotor or bladed vehicles. "My plan is also to become a Commissioned Officer, [which involves] mentoring and teaching." He says his time as an instructor at LCCC has best prepared him for the role he plans to take on in the military.
For prospective LCCC first-year students, Mulero-Collazo says to "remain flexible and be able to adapt to change. Be able to, regardless of the situation, use the same principles, think about where you want to be, and develop a path to get there."
LCCC is a designated Military Friendly School. For more information on LCCC's veterans programs, contact Ariel Van Dam, Assistant Director of Returning Adults and Veterans Admissions, at avandam@lccc.edu or 610-799-1545.