Syrian Immigrant Credits LCCC with Helping Her Get a Head Start
By Lorraine Letcavage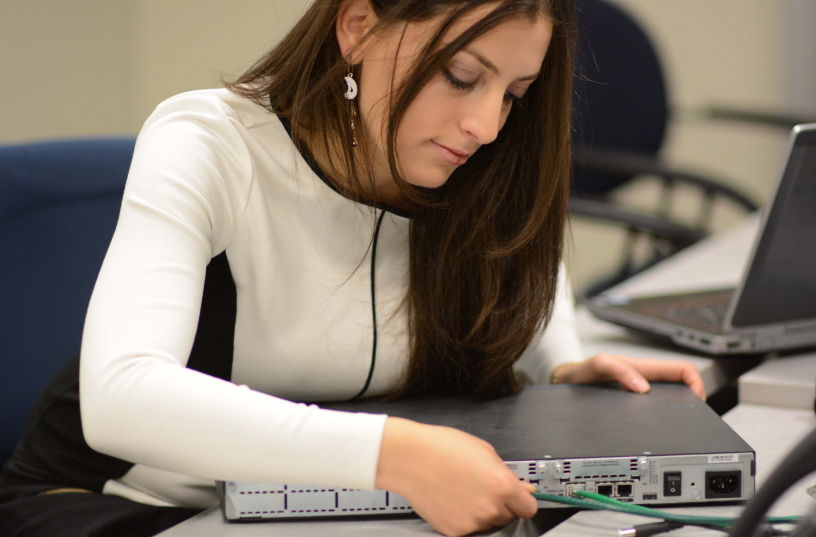 Jusline Sayegh immigrated from Syria in 2007 with her parents, brother and little else.
Now, she works as an IT business analyst/product manager for Air Products, and she credits her educational experience at Lehigh Carbon Community College as the launching pad for her growing career.
How ESL Classes Led the Way
Sayegh's family moved to the United States more than 10 years ago to secure a better life and find more educational opportunities.
Her first priorities were earning an income while trying to adjust to living in a new country – she worked in a plastics factory as a picker/packer into the early morning hours.
But with the goal of getting a college education in mind, Sayegh searched for a class to improve her English skills. She enrolled in LCCC's English as a Second Language (ESL) program at the college's main campus in Schnecksville.
"It was the best thing I've ever done in my life," Sayegh says.
She met ESL professor Ruth Munilla and they formed an instant bond, and Sayegh credits Munilla with "playing a part in everything good that's happened in my life. She changed my life entirely."
Munilla realized that Sayegh was outstanding not only as a student, but also personally. She was impressed by Sayegh's determination to attend class while helping her family get established in America.
"She is the most memorable of all my students. She is, above all, a trailblazer," Munilla says.
By this time, Jusline had bought her first car and dutifully served as the family's chauffeur. She would drive her parents and brother to work, then rush to class at LCCC. Upon arriving home after her late shift at work, she would study English and send completed assignments to Munilla at unusual hours, which prompted the professor to learn more about Sayegh's situation.
A Mentor Becomes a Driving Force
The bond between the student/teacher duo began in the classroom, but became stronger as their paths continued to cross. Sayegh was motivated by her ESL instructor's support, saying that she strived for excellence because "someone believed in her." Munilla, in turn, was inspired by her enthusiastic student's passion for learning.
"She always jumped at every opportunity, and when she committed to something, it was 100 percent," Munilla says. "She was active in all of our outreach events. She was a powerful voice and role model for all second-language learners."
Sensing Sayegh's strong connection with other students, Munilla offered her a job as a student assistant in the ESL lab. Sayegh initially hesitated, since she was still balancing factory work and school assignments while supporting her family, but with Munilla's encouragement, Sayegh accepted the position.
The ESL students identified with Sayegh's struggles to adjust to American culture, and they were encouraged by her support. Munilla says that Sayegh would treat the ESL students in a way that made them feel comfortable in their new environment.
"She's such a role model for anybody, but particularly for ESL students who are new to the country," Munilla says. "She's such a model for those students to see, 'You can do this.'"
Sayegh also coordinated the World Café program for LCCC, in which ESL students share their culture with others by telling stories, dispelling misperceptions and stereotypes, and serving international cuisine from their homeland.
"The best thing that's ever happened to me in the United States was the experience I had as an assistant in the LCCC classroom," Sayegh says.
The Bucknell University Connection
Sayegh quickly became indispensable in her role as an ESL office assistant in 2010-2011. Others at the college formed strong relationships with her, including Ginny Mihalik, LCCC's transfer coordinator, who was instrumental in presenting Sayegh with an opportunity for admission into the Bucknell University Community College Summer Scholars program. The fully paid, six-week curriculum is designed to encourage and recognize academic excellence in honors students.
At first, Jusline had doubts about attending – she was worried about the language barrier, as well as being away from home and work. But Munilla once again encouraged her, and Sayegh became the first ESL learner to receive the Bucknell scholarship. Because of Sayegh's first steps, LCCC has since had six more ESL Bucknell Scholars join the transfer program.
Shortly afterward, in 2011, Sayegh was encouraged to submit a research paper to the Beacon Conference, an event established by honors faculty to showcase academic achievements of students from community colleges in the Mid-Atlantic region. Her presentation was based on her experience as an ESL teaching assistant, and the judges awarded her first place, a notable achievement made even more rewarding since the conference was held at LCCC that year.
"She has exceeded all expectations for me and so many others who recognized and supported her many talents and potential," Mihalik says. "She was, and still is, passionate about her work and responsibilities and demonstrates a deep, dedicated work ethic that I so respect and admire."
Sayegh also received the Jack Kent Cooke scholarship to complete her four-year degree at Bucknell University in 2013 with a bachelor of science in computer science, after graduating from LCCC in 2011 with a dual degree in liberal arts and education. She became co-founder and president of Bucknell's Middle Eastern Association for international students, and was a teaching assistant for the Bucknell's Arabic instructor.
Giving Back to the Community
Having participated in summer internships at Air Products in 2011 and 2012, Sayegh was offered a full-time position with the well-known international gas company. She has since become a key figure in community outreach and has traveled with the company to several states and six European countries. She recruits new talent for IT internships and co-ops at colleges, and she served as an advisor for the Air Products Explorer Post program by introducing teens to STEM programs, teaching them about IT careers and leading computer science and technology labs.
Munilla has also invited Sayegh to visit LCCC and explain the value of ESL programs from a student's perspective, emphasizing its power to change lives. She delivers this presentation passionately, so that teachers can understand how supporting ESL students can be a launchpad to greater possibilities.
"There is nothing she didn't achieve, and she did it with such grace and generosity," Munilla says.
Sayegh serves as a board member for Pinebrook Family Answers and is a cultural orientation facilitator and translator for Bethany Church Services, helping new families coming into the U.S. She still finds time to sing at church functions, lift weights, play basketball and tennis, and travel when possible. She also provides advice to students who are just starting out.
"Connect with as many people as you can while in school," Sayegh says. "Do more than go to class, as the connections you'll make are valuable."
For more information on LCCC's ESL program, contact Kenza Glass, director of English Language Learning Services, at lglass@lccc.edu.