Tucker Zimmerman—Early College Student of the Year, A.A. in General Studies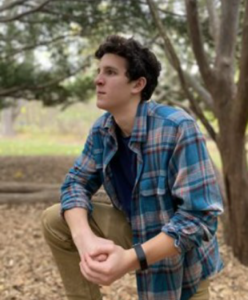 Students in LCCC's Early College program get a jump start on their college education while still in high school. Tucker Zimmerman had been a student at the Pennsylvania Cyber Charter School and on track to graduate by the end of his junior year—"However, upon hearing about the Early College Program that my local high school, William Allen, offered, I felt that it was an exceptional opportunity…I had never officially attended a public school, as I had gone directly from homeschool to cyberschool.
"On top of the financially beneficial opportunity the Early College program presented, I also saw it as a chance to attend public school for the first time. This would enable me to warm up to that experience before diving headfirst into a four-year, out-of-state university," Zimmerman said. He said engaging with professors was one of the most enjoyable aspects of his LCCC experience.
After graduation, he plans to continue to establish and nourish connections with those he meets. He plans on attending LeTourneau University in Longview, TX, to study mission aviation, a major that will help him reach his goal of becoming a missionary pilot. The profession will require him to spend extended periods of time in impoverished countries providing various basic needs to the residents of these nations.
While LCCC's Early College program provided Zimmerman with a stepping stone to completing his undergraduate studies, the experience also offered him the ability to meet, connect with, and help people. "The rewards [the program] can yield for those willing to put their best foot forward toward it are incalculable," he said.