Students Address Graduates, Families and Friends at Commencement
By Leanne Recla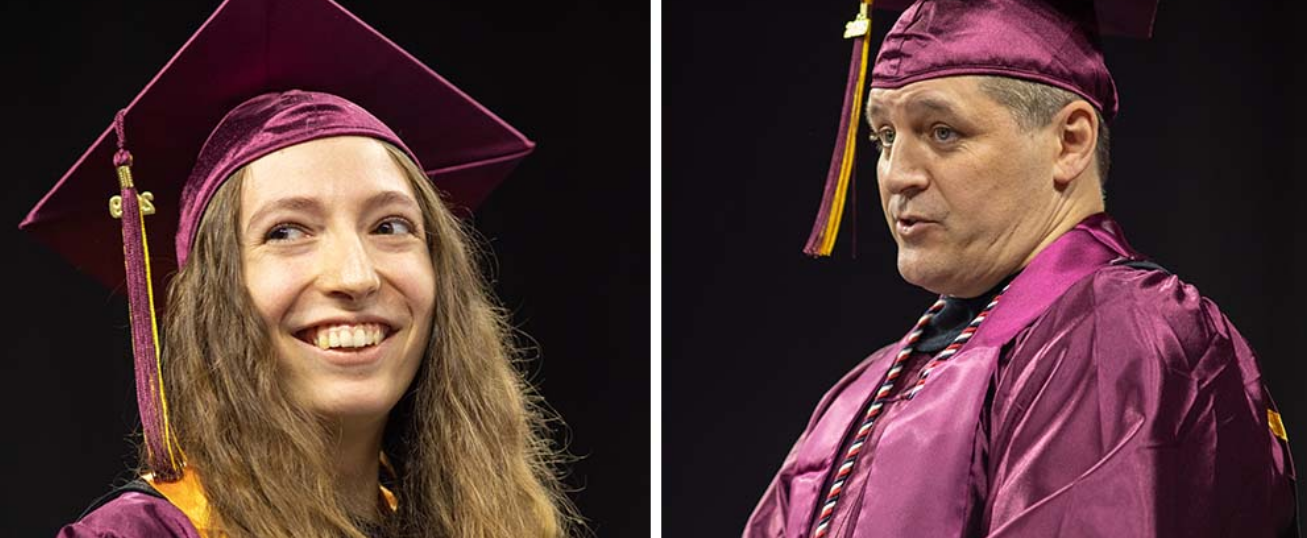 Each year, Lehigh Carbon Community College selects two student speakers for its Commencement Ceremony. At the PPL Center in Allentown on May 15, Veronica Rosenberger and James Dziedzic reflected on their time at LCCC and plans for the future.
Veronica Rosenberger
As a member of the Student Government Association, sustainability committee and Paw Print student newspaper, Veronica Rosenberger was very active during her time at LCCC.
"I liked the size of LCCC. Because it's smaller, I got to work one-on-one with professors and build relationships with them," she said.
Rosenberger graduated with an associate of arts degree in communication. She plans to transfer to Kutztown University in the fall to pursue a bachelor's degree in communication. Because of her dedication to the environment and sustainability, she hopes to find a way to support eco-friendly causes in her career. Related to that theme, her commencement speech focuses on the idea of "growth."
"My speech is about growth – helping ourselves grow, and helping the world grow. It's so important to focus on the good aspects of our lives."
James Dziedzic
James Dziedzic returned to school after serving in the Marine Corps and having a full career with the state police. Now at 49 years old, he hopes to be an example for his children, as well as honor his father's memory.
"My dad passed a little over two years ago, and I regretted not giving him the gift of seeing me get a degree. So that was the catalyst that really drove me. I wanted to lead by example for my kids, too. I always talk about education but I didn't have mine."
Dziedzic graduated from LCCC with an associate degree in criminal justice administration and a certificate in corrections, and he plans to pursue a position in corrections administration. His speech celebrated the differences in each of our paths through life.
"It's going to be an emotional speech for me. I want to tell the kids I coach and my own children about the value of an education. If I can get a degree at my age and with my schedule, they can do it, too. Then, I dedicate my degree to my dad."