Scholarship Donation to LCCC Honors Accountant's Love of Education
By Leanne Recla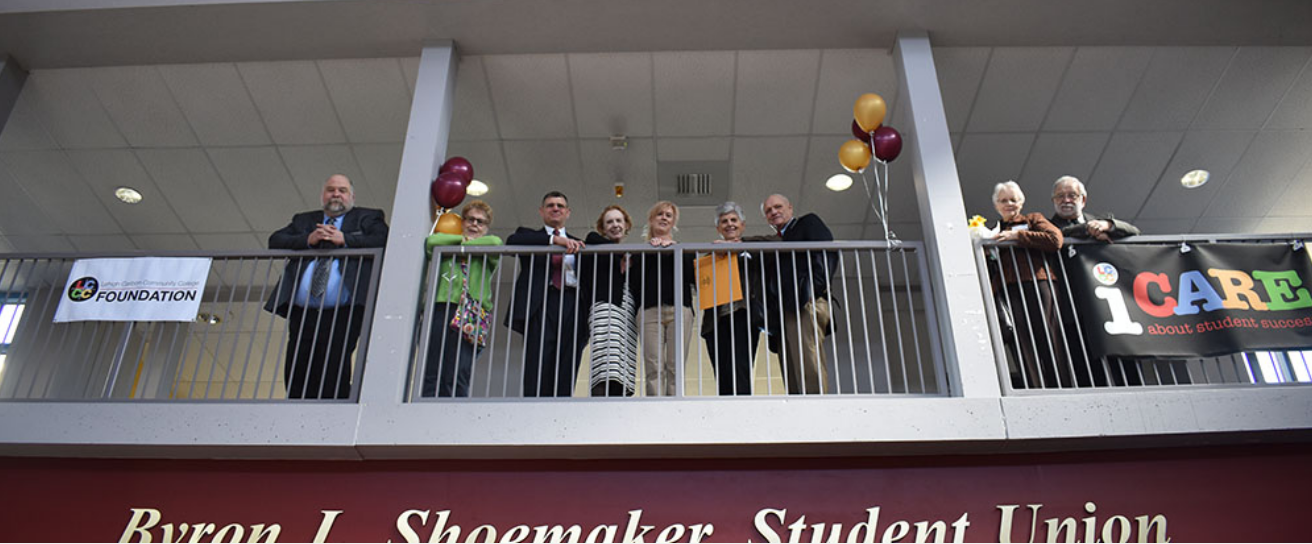 Byron Shoemaker grew up in Lehighton with a strong work ethic and belief in education, and now his legacy will help many Lehigh Carbon Community College students pursue their dreams.
"Our father was a hard-working man who worked until he was 95 years old," said Shoemaker's sister, Nancy Matyascik. "That work ethic was instilled in us our whole lives."
Matyascik, along with Shoemaker's husband, Jim Wood, and friend, Richard Cassar, are the trustees of the Byron L. Shoemaker Foundation, which provided LCCC with a $300,000 gift to start a scholarship fund in Shoemaker's memory.
The scholarships were first awarded to students in the fall 2018 semester. So far, 81 students have benefitted, for a total of $94,193, with $46,796 awarded in fall 2018 and $47,397 allocated for spring 2019.
"Receiving the scholarship allowed me to take an extra class this semester so that I can graduate in the spring," said Hayley Slater, an accounting major from Lehighton who works full time while attending classes at LCCC part-time. "I will be the first person in my family to attend and graduate college. Having the chance to walk down that aisle in a cap and gown to receive my diploma has been a goal of mine for a long time."
Life and education
Shoemaker's family life in Lehighton taught him the importance of hard work. His parents owned a grocery store and, for a time, the Grandma's brand of potato chips. Shoemaker and his siblings helped their parents run the store, as well as the family's small potato chip plant.
While working for his family and in a nearby garment factory, Shoemaker remained focused on his school work.
"He was always competitive in education. He would compare our report cards and say, 'I'm doing better than you,'" Matyascik said.
Shoemaker graduated from Lehighton Area High School in 1969 and was accepted into the University of Pennsylvania, but he didn't receive enough financial aid to afford the tuition. So he instead attended Lebanon Valley College, which provided a work study program that helped cover his academic expenses.
"That's really the reason for our interest in these scholarships. We're hoping that they can touch students in the same way that Byron was able to attend college," said Wood, Shoemaker's husband.
Shoemaker graduated from Lebanon Valley College with a degree in accounting, but he returned to work in the garment factory while he applied for jobs in the field. Eventually, Shoemaker was offered an accounting job in Pottstown and moved there, but he still faced a lot of challenges.
"His job in public accounting was actually a pay cut from being a presser at the garment factory. So that's one of the things that encouraged him to go back to school," Matyascik said.
Shoemaker decided to pursue a master of business administration degree at Lehigh University, and he began taking classes at night, commuting between Pottstown and Bethlehem.
"That was a challenge because it was during the oil crisis (in the early 1970s), and you couldn't get gas. Byron always had a love of cars, and when he was in graduate school, he had his regular car and this 1958 DeSoto, which was a bucket of rust. But he made sure one car was always full of gas so that could get to school in Bethlehem. So he drove up to Bethlehem frequently in this '58 DeSoto," Wood said.
Shoemaker remained committed and eventually earned his MBA. He spent his entire career in public accounting, working with Dreslin & Company, Cappelletti, Shoemaker & Co., and finally as a sole practitioner.
Shoemaker's legacy
Shoemaker's early life shaped many of his career and personal interests. His sister said he was always good with money, even at an early age.
"When we were kids, I used to pay him in nickels so he would let me watch television in peace," Matyascik said. "So he saved the nickels and bought his own television. He was six years younger than I was! He was definitely meant to be a CPA."
Cars were also a big part of Shoemaker's life. He bought the 1958 DeSoto while he was a student at Lebanon Valley, and he kept that car for his entire life, eventually restoring it in the mid-80s.
"When he was a kid, he'd go to car shows with his dad. Cars were a huge, huge part of his life. We had a silhouette of his '58 DeSoto put on his headstone," Wood said.
So when the family was deciding how to preserve Shoemaker's legacy, Matyascik, Wood and Cassar chose LCCC due to Shoemaker's commitment to education, as well as the geographic location that LCCC serves, which includes the Lehighton and Allentown areas that Shoemaker loved.
"He had no children of his own, and he wanted to leave something behind to benefit others," Matyascik said. "Our family is comfortable and doesn't need anything, and he wanted the money to go to somebody who did."
In April 2018, LCCC renamed its student union to the Byron L. Shoemaker Student Union, in honor of the scholarship contribution.
"Mr. Shoemaker's memory and his legacy will live on here at the college through the scholarship and, now, through the Student Union," LCCC President Dr. Ann D. Bieber said. "He valued education, and the generosity of his family will impact the communities that were important to him."
To qualify for a Shoemaker scholarship, a student must be a resident of Lehighton or Allentown, and preference is given to students enrolled in Health Care Science programs, Accounting, Business Administration, Business Management and Education programs. Visit LCCC's scholarship page for more information and the full list of requirements.