Navy Veteran Supports Fellow LCCC Students while Training for New Career
By Megan Sciarrino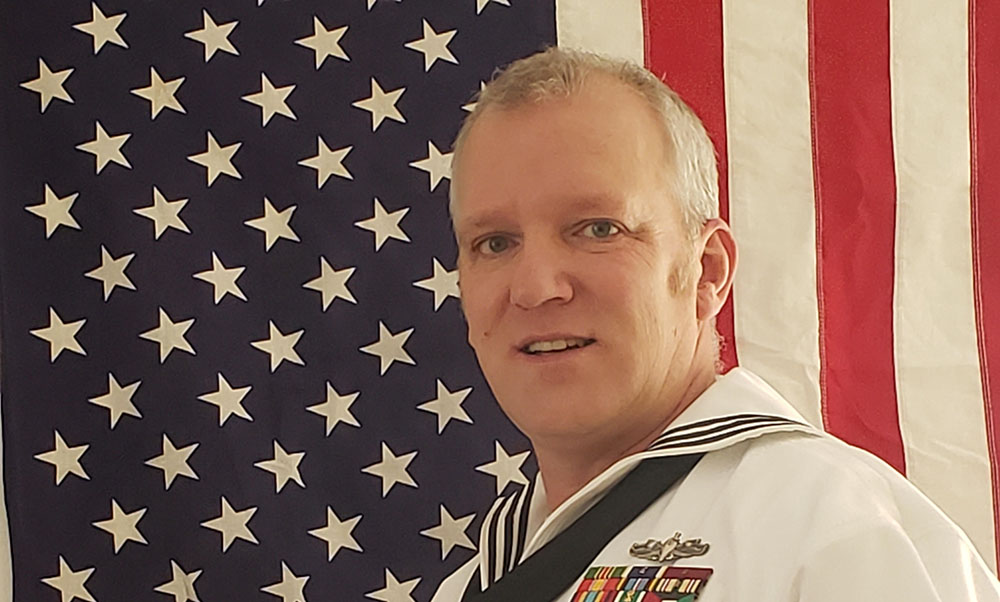 Lehigh Carbon Community College alumnus Michael Hartranft says trouble always seemed to show up when his father, a career Navy man and reservist, was away on active duty.
"My poor mom," Hartranft said as he recalled the moment that led him to pursue a career of service.
"I couldn't have been more than 5 or 6. My brother and I were asleep and, in the middle of the night, a firefighter grabbed us from our bunk beds," Hartranft said.
There was alarm and confusion, but it was quickly diffused by the firefighter who put the safety of the Hartranft boys first. Removed from harm, the family learned there was a gas main break in front of their home.
"As a kid, I just thought it was so cool that he showed up and saved us," Hartranft said. "I knew I wanted to do something just like that."
Called to Serve
A U.S. Navy veteran who followed in his father's footsteps, and a volunteer firefighter with Whitehall Township for 20 years, Hartranft has certainly put country and community ahead of self.
He spent 10 years in the Navy as a radioman. He completed boot camp in San Diego, was stationed in Virginia Beach and Norfolk, Va., as well as on the U.S.S. Dwight D. Eisenhower, U.S.S. Wasp and U.S.S. Nashville. He also completed a tour of duty during the first Gulf War in 1990.
But Hartranft struggled with his return to civilian life when he was released in 1995.
"It is completely unlike military life, where every day is planned for you and there's a command to follow," Hartranft said. "I went from being in charge of $13 million in communications equipment to being in charge of nothing."
A single father raising a teenaged son, Hartranft bounced from job to job trying to make ends meet.
He was frustrated and unfulfilled, until he learned about educational funding benefits for disabled veterans through the Office of Vocational Rehabilitation. Books, tuition, a computer – everything would be covered as long as he was up for the challenge.
So at age 51, he started a new and unanticipated chapter by enrolling at LCCC.
"I never liked school," said Hartranft, who grew up in Allentown and attended Central Catholic High School. "I graduated and 14 days later was on a plane going to boot camp."
But he says his decision ultimately helped him fulfill his calling even more.
Supporting Other Veterans
During his enrollment process, Hartranft met Diane Stanus, who works with veterans in LCCC's registration office.
"Diane became my sounding board. When I was having trouble in classes, she'd get me to take a deep breath," Hartranft said. "I'd tell her that I was really worried that I was going to fail, and she had this way of reeling me back in."
Hartranft's ability to understand veterans soon proved to be an asset to Stanus, too. He started working as a work study student in LCCC's student records office, and when a position became available to help students who were enrolling through veterans affairs, he jumped at the chance and began working more directly with Stanus.
"The military has its own language. Veterans want to speak to veterans, and in this work study position, I was able to make important connections that helped veterans, while also helping Diane," Hartranft said.
Stanus is also grateful for the time that Hartranft spent working with his fellow students.
"Mike is a hard worker and was a very dedicated and determined student," she said. "I've never known someone with as much knowledge and compassion for the service itself, as well as his fellow servicemen and women."
A Head Start and CareerLink Connection
Leveraging his military career, Hartranft was able to apply his experience to his degree, starting with 15 credits already in place. And through Pennsylvania CareerLink, Hartranft was selected to interview for a maintenance technician position with ThermoFisher Scientific in Nazareth, Pa.
"When I spoke with the hiring manager, there was something about his voice that reminded me of my father. Then I came to find out that he, too, was a Seabee. He served in the Navy Construction Battalion just like my dad," Hartranft said.
Hartranft was hired on the spot and ThermoFisher advised him to major in electrical technology, which would enhance his already-extensive experience.
While the new position with ThermoFisher brought a close to his work study position at LCCC, he remained committed to helping veterans while working toward completing his degree.
"My goal was to help any veteran who came through LCCC get access to every resource they earned," Hartranft said.
He maintained his relationship with Stanus and also threw himself into the LCCC Veterans Club, serving as its president for two semesters. He used his role to fulfill his goal of helping every veteran he met, in any way possible. He recalls multiple conversations within the safe space of LCCC's veterans lounge, or simply by following his instinct in the halls.
"There was a guy wearing a military-style coat that I'd overhead talking to a friend about not being able to pay for school, and my gut told me to strike up a conversation," Hartranft said. "He turned out to be a veteran with a disability rating high enough to go to college for free. He had no idea! That's the kind of help we offered."
A Successful Career Path
Hartranft graduated from LCCC in 2017 with an associate degree in electrical technology. He has been with ThermoFisher for five years and was recently promoted from maintenance technician to maintenance supervisor, overseeing the smooth operation of a 500,000-square-foot-warehouse and everything under its roof.
He is grateful that ThermoFisher recognizes veterans' skill sets and work discipline. The company finds ways to bring veterans together, provides the comfort needed for them to continually grow, and encourages them to continue their education.
ThermoFisher even has a dedicated veterans helpline, and Hartranft is the point of contact.
"I never in my wildest dreams thought I would go back to school, let alone be the first in my family to earn a college degree," Hartranft said. "Then to be at ThermoFisher – LCCC put me on this path. LCCC is how I found myself in this very family-like environment."
At the encouragement of his employer, he is considering returning to school again, this time to focus on industrial and warehouse safety. His career continues to be in service to others, and he would tell anyone, especially veterans, that it's never too late to go back to school.
For more information on veteran services at LCCC, contact Leslie Bartholomew, director of returning adult and veteran services, at 610-799-1545 or lbartholomew@lccc.edu.