Native of Haiti Receives LCCC Student of the Year Award
By Alicia Durst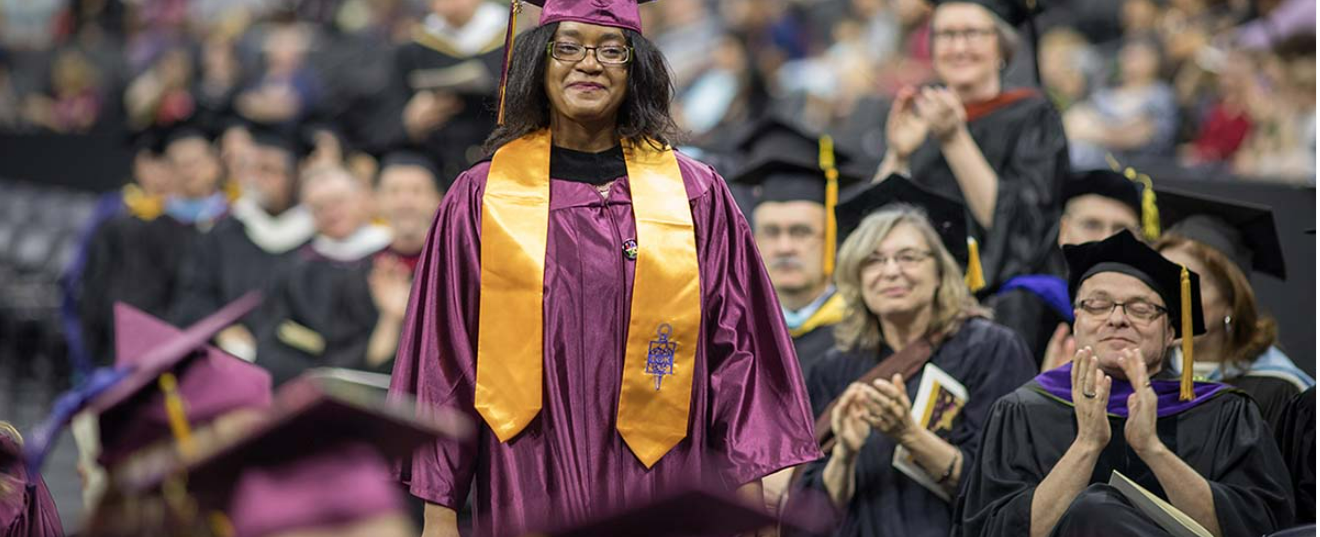 Aldaine Alphonse was surprised when her name was called as Lehigh Carbon Community College's 2018 Student of the Year.
"I could not believe that they were talking about me," Alphonse said. "I am incredibly honored to be Student of the Year."
Alphonse graduated with an associate degree in business administration at LCCC's Commencement Ceremony in May 2018, where the Student of the Year award is announced. The award is presented each year to a student who is exceptional both inside and outside the classroom.
Despite moving from Haiti to the United States to attend college and overcoming a series of obstacles, Alphonse was surprised when it turned out that the introduction to the award was about her.
Coming to Pennsylvania from Haiti
For most students, college is their first independent experience away from home. But Alphonse moved much farther away from home than usual.
She moved to the United States from Haiti to attend college, and her first semester at LCCC was challenging. She had to conquer many hardships, including a language barrier – English is her third language.
Alphonse found that becoming involved in LCCC and the community helped her adapt to her new surroundings and made her feel more comfortable.
"I joined the Student Government Association, the Business Club and the Psychology Club," Alphonse said. "I served in the Phi Theta Kappa Honor Society as the treasurer for three semesters. I also have a strong desire to help my community – I volunteered at American Red Cross as a home fire volunteer. These activities helped me adapt faster."
Along with this long list of activities, Alphonse joined the Criminal Justice Club and Business Entrepreneurship Club, giving her the opportunity to volunteer and participate in many different events, such as bake sales and field trips.
Lessons Learned from LCCC
Alphonse learned how to manage her time well at LCCC, especially with a heavy schedule of academics and extracurricular activities. She also learned how to push herself and explore new things, and she was able to interact with people from diverse backgrounds and grow as an individual.
"I have learned to accept that everyone has their stories, and everyone is different and unique," Alphonse said. "LCCC gives me plenty of opportunities to strengthen my integrity, my character, and stay true to my values."
Alphonse also found a friend in each of her instructors, saying that they were understanding and did everything they could to help her succeed. Christine Flores, an academic advisor at LCCC, was Alphonse's first friend when she came to the United States, as well as her biggest influencer. Flores helped Alphonse become more familiar with the area, such as how and where to get on the bus and where to buy winter clothing – something she never had to do in Haiti.
"She works very hard, listens to the advice of others and makes informed decisions," Flores said of Alphonse. "She is a very sweet and humble ​person who would probably never want to be in the spotlight, but she so deserves it. She can be such an inspiration to others."
Alphonse has some advice for current and future students: Take advantage of all of the resources that LCCC has to offer. She encourages students to connect with their teachers, saying that the professors at LCCC have an abundance of wisdom to offer. She also says that students should push themselves out of their comfort zone and join clubs and other extracurricular activities.
Career Aspirations
Alphonse plans to transfer to Bucknell University to earn a bachelor of science in business administration with a concentration in finance and economics.
"I want to learn how to make effective financial decisions from an economic standpoint and how to apply mathematical and statistical methods to assess risks involved in different business models," Alphonse said.
She participated in LCCC's Bucknell Summer Scholars program, which allows selected students to transfer to the university in Lewisburg, Pa., to complete their bachelor's degree. Once she graduates from Bucknell, Alphonse hopes to get a master's degree in business administration, and eventually buy into her own financial corporation.