LCCC's Media & Design Center Gives Students a Taste of a Digital Business
By Leanne Recla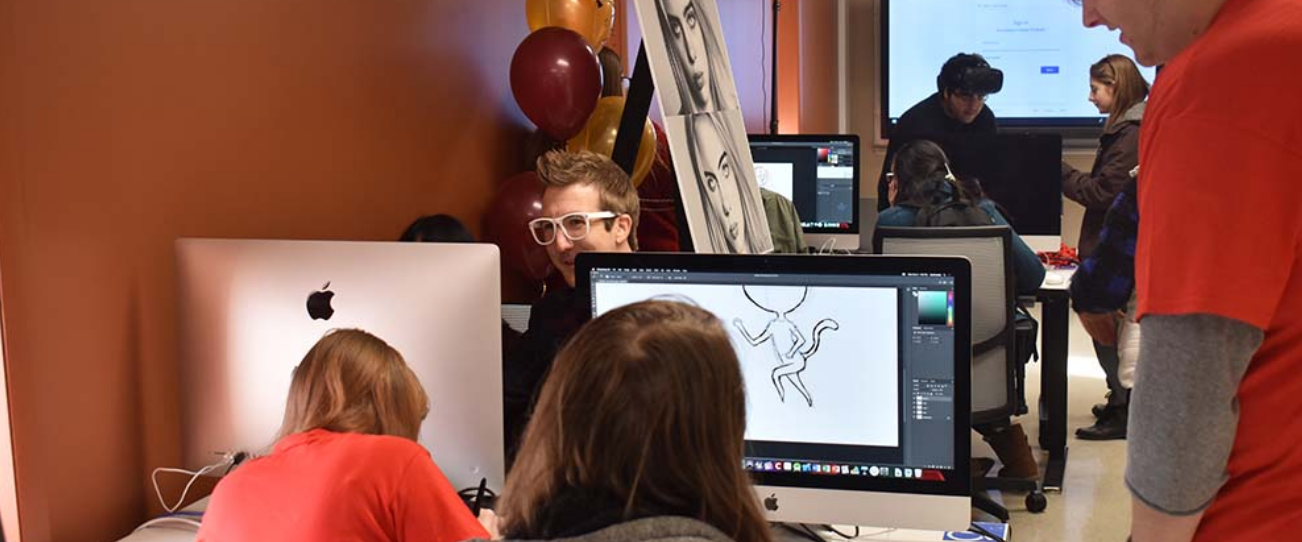 Students in Lehigh Carbon Community College's sound and design programs will soon have a more modern and collaborative space to work, thanks to major renovations at the college's radio station.
"I'm glad students have a resource like this," said T.J. Rosario, who is in LCCC's Computer Game Simulation Development program, taking both the Programming and Digital Arts tracks. "It looks really nice and it's definitely something I'll use."
The building was recently unveiled to the college community as the new WXLV Media & Design Center. Along with the sound production rooms and recording studio that were already in the building, it now features Apple computers with industry-standard design software, digital drawing tablets, a large touch-screen smartboard, 3-D printer and more.
"We wanted to increase lab and creative space for students. Our programs reflect the shift into digital media, but it hadn't been reflected in that building yet," said Richard Wilt, dean of the School of Communication Arts, Computers, and Technology.
Originally built in the early 1980s, the building featured sound production rooms and a recording studio, and served as a home to LCCC's FM radio station, WXLV. But as the FM station transitioned into a digital broadcast through IHeartRadio, some of building space went unused.
"The radio station just physically has a smaller footprint because we don't need the FM radio equipment," Wilt said. "We didn't lose anything by re-allocating the space because we could shrink the radio broadcast studio."
That extra space was used to create a modern, collaborative environment geared toward students in LCCC's design programs, including Graphic Design, Music/Sound Production, TV/Film, Computer Generated Animation and Digital Arts, and Communication.
"It will support specific class labs, assignments and learning objectives. But what we really want to do is for all those degrees to cross over and be interdisciplinary," Wilt said.
For example, LCCC offers the course ART 118: 2-D Game and Simulation Graphics, which teaches students how to design for animation, as well as CIS 118: Game and Simulation Programming Fundamentals, which emphasizes programming for animation. The students in those classes work together on a project to create a newly designed, animated object. The objective is to demonstrate to students how employees work together in a modern, digital office to create a product.
"It gives students who are going into the business a sense of what a real business is like. We're very much thinking of a commercial, digital media business. It was intentional, on our part, to make this building look like that," Wilt said.
The building will be staffed about 30 hours per week in the spring 2019 semester, and will be open to students to use the equipment and collaborate on projects.
"I think students will be happy because it gives them an opportunity to use all this digital equipment," said Amber Carroll, a fine arts major. "Plus, they can get inspiration from each other because it's more open for communication."