LCCC Students of the Year Celebrated for Their Hard Work
By Sara Hodon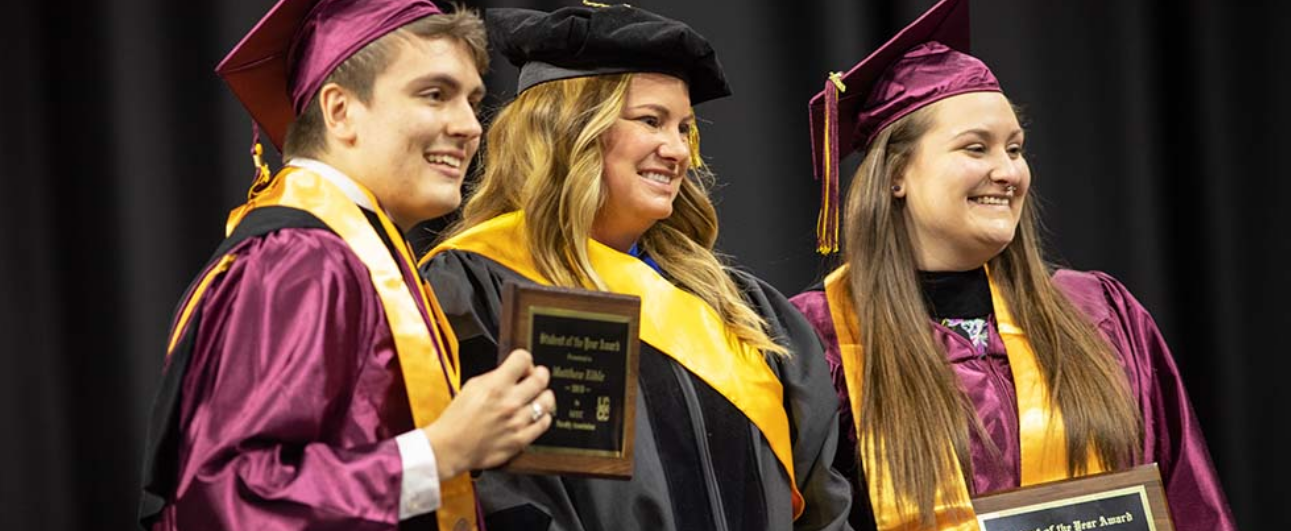 One of the most prestigious honors given by Lehigh Carbon Community College is the annual Student of the Year award. Instructors nominate the students, who are then selected by the LCCC Faculty Association for representing excellence both inside and outside the classroom. This year, Matthew Eible and Mary Collier were selected for the award.
Matthew Eible, biology graduate
Matthew Eible loves to learn, and not necessarily because he's studying for a test. As a biology major, Eible found the perfect field for his naturally curious mind. He graduated from LCCC with an associate of science in biology summa cum laude and will continue his studies in the fall as a microbiology major at Moravian College in Bethlehem.
Eible, of Breinigsville, says learning is important to him in every aspect of his life.  He constantly sets higher goals for himself and works hard to achieve them. He has taken on additional responsibility at his restaurant job and hopes to be a trainer, where he can mentor other servers and teach them how to work more efficiently.
"At campus, I like to learn more about my community and extracurricular involvement, fostering a multifaceted immersion," he says.
Eible kept up his strong work ethic by keeping his end goal in mind.
"Staying level-headed and focused on my goals kept me motivated," he says. He encountered a few difficult classes – namely Organic Chemistry – but he wasn't satisfied to merely pass the course. He wanted to earn an A.
"I worked hard at every part of that class, trying to do my best. I always try to do my absolute best in my academics. I wanted to maintain a perfect GPA during my time at LCCC, so I went and did it."
He plans to apply that same work ethic to his studies at Moravian.
"Some of my short- term goals are to obtain a bachelor's degree, support a healthy lifestyle, and involve myself in community service work. My long-term goals are to get a Ph.D. in biochemistry or go to medical school, become published, and be happy in my career and personal life."
He encourages current LCCC students to "be unapologetically true to yourself. If you want to shoot for the stars, then do it. I aimed high and managed the landing. Don't lose sight of the stars you are aiming for. If things get rough and you lose sight, then change your trajectory. Adapt and keep moving forward – it's the only way to make it through. The highest highs aren't accomplished by staying at your lowest lows. Get up, show up and, in the end, own it."
Mary Collier, business administration graduate
Mary Collier says she was "shocked" when her name was called as one of the Students of the Year. But winning the award just speaks to how far she's come in her academic career. When Collier started classes at LCCC three years ago, she didn't have a clear direction in mind.
"I started as a non-degree seeking student," Collier says. "I started taking classes because I just felt stuck where I was in life. I started taking courses to see what piqued my interest."
But rather than just take classes, study, and head home every day, Collier, of Bethlehem, wanted more from her college experience. She wanted to meet people, make friends on campus, and feel more connected to the college community.
"I started getting involved with the Psychology Club — that was the first thing I joined, and I earned an officer position there. We did a lot of different events with other departments on campus, so I did a lot of networking with other students and departments I wouldn't have gotten involved with otherwise."
Collier later joined the Alpha Omicron Alpha chapter of Phi Theta Kappa, the international honor society for two-year colleges, and participated in the Bucknell Community College Scholars Program, which helped to expose her to additional opportunities.
Collier may not have had a goal in mind when she started at LCCC, but she says, "I definitely found my path." She graduated with an associate of arts in business administration and is excited about her future. She plans to transfer to Bucknell University to study accounting, and she earned a full scholarship at Bucknell thanks to her participation in the Community College Scholars Program.
Ultimately, her involvement on campus and willingness to take advantage of opportunities helped Collier set a course for her future.
"I want to work for an organization I care about, but not necessarily for an accounting firm. I'd like to work for a few years, maybe go back to school and get my master's degree, then maybe do actuary work. My advisor is the one who said, 'You really like math, you like organization and structure — why don't you try accounting?'"
Collier describes her time at LCCC as "life-changing. Going to LCCC definitely helped put me on track." And her best advice for LCCC students is to get involved.
"When I walked through the halls, I would read every flier or read the emails from Student Life and put everything in my planner. There's more to learning than just what's happening in your courses. Utilize every single part of the school. I bet many students don't realize there's a counseling center, tutoring services, all the clubs and honor societies, and all the different point people to help you."