LCCC Manufacturing Students Celebrate Job Offers and Interviews
By Leanne Recla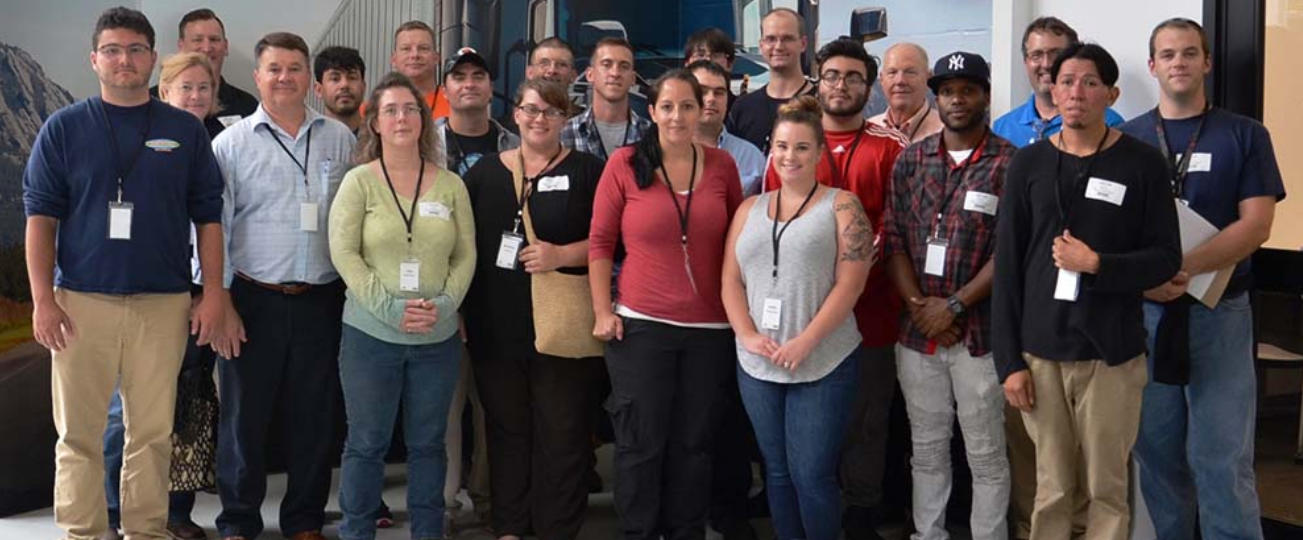 A recent grant allowed Lehigh Carbon Community College to offer a special tuition-free manufacturing course to students, and as a result, several of them received job offers before the program even ended.
"I already have a position with Mack Trucks," said Lisa Hoffner, who worked in health care before starting the course, and was offered the position with Mack in December. "I went to an open house (at Mack) and was amazed at how they put the trucks together. This class as a whole was a great experience for me."
The Fundamentals of Manufacturing program was an entry-level, training-to-career program, similar to LCCC's other manufacturing and pre-apprenticeship programs. The course was a comprehensive introduction for students seeking jobs in advanced manufacturing. They took classes in mathematics, measurements, electrical and mechanical fabrication, workplace skills and OSHA 10 certification, plus received hands-on training in warehouse management and production methods.
The course is typically offered directly to local manufacturers in the Lehigh Valley, many of which send their employees to LCCC for the training. This grant, funded by the Pa. Department of Community and Economic Development's Manufacturing PA Program, gave LCCC the unique opportunity to offer the course directly to 15 students in fall 2018.
"This provided foundational training in the areas of advanced manufacturing," said Tom Bux, LCCC's director of workforce development and coordinator of the program. "The program targeted people who wanted entry-level jobs in advanced manufacturing or for those who are new to these jobs and needed to prepare for a more rigorous training plan."
Students completed the course in 16 weeks, and their graduation was celebrated at LCCC on Dec. 21. It was offered in partnership with the Manufacturers Resource Center, which works closely with Lehigh Valley manufacturers to grow their companies and support the local industry. LCCC works closely with the MRC to develop courses that support the growth of these manufacturers.
"MRC has been a great partner and their expertise in advanced manufacturing has been vital.  They also have a strong connection to many employers in the region, which is beneficial for our students," Bux said.
There are about 900 manufacturers in the Lehigh Valley, making up about 15 percent of the total local industry. More than 70 percent of those companies anticipate adding employees in the coming years.
Several of the students received job offers from multiple companies with starting salaries between $15 and $20 an hour, and other students are still in the process of interviewing.
"I wanted to advance and do something that mattered," said Sean Gifford, who had three interviews scheduled before the end of the program. "It fit my work schedule perfectly. And as the program developed, the job opportunities in the Lehigh Valley kept getting exponentially better."
During the course, that students split their time between hybrid classes at LCCC's Schnecksville campus and additional instruction and manufacturing simulations at the MRC. In addition, students took tours of various employers, including Mack Trucks, Ocean Spray and Lutron.
"It was a fantastic education. We learned more than was even in the curriculum because it was comprehensive. We did everything from basic math to hydraulics to soft skills," said Joshua Solomon, another graduate of the program. "Anyone who wants to move into something mechanically inclined, this course is a one-stop shop."
LCCC offers a range of training opportunities similar to the Fundamentals of Manufacturing course.