LCCC Graduate Finds Confidence and a Passion for Teaching
By Hannah Mills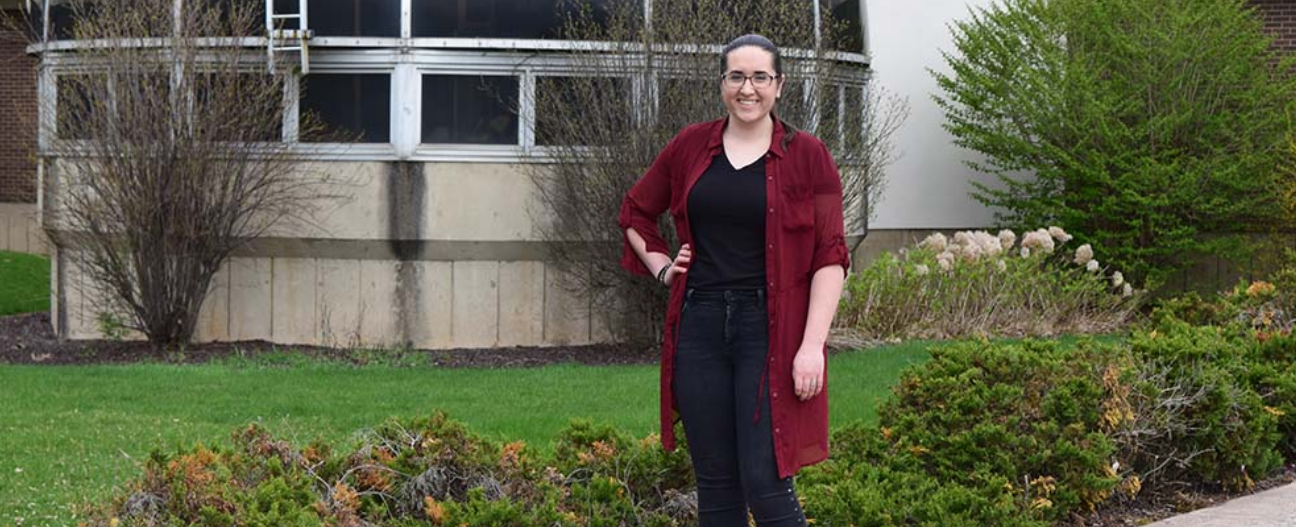 It's difficult for anyone to overcome self-doubt, but confident students who learn from their mistakes will often achieve great things.
"In the past, I was very critical of myself and always comparing myself to others. But now, if I feel like I could have done better, I learn from that and just carry on," said Kira Williams, who graduated from Lehigh Carbon Community College in May with an associate degree in education.
Through Williams' hard work, she was recently named to the All-Pennsylvania Academic Team. Members receive a scholarship that covers full tuition for her junior and senior years at a state university.
Williams plans to use the scholarship to transfer to Kutztown University in the fall, where she will major in secondary education. She hopes to eventually become a science teacher, a passion that was sparked in a high school biology class.
"Even though I found that subject challenging, I really loved it," Williams said. "And the same thing with anatomy. It was just so fun, and I can't wait to teach it one day and spread that knowledge to others. I know I can definitely do it and I'm so excited."
Williams, who lives in Jim Thorpe, took her first-year courses at LCCC's Jim Thorpe and Tamaqua sites. Her second-year courses have been at the main campus in Schnecksville.
"I liked the Jim Thorpe and Tamaqua campuses for their smaller classes, since it gave me more opportunities to have one-on-one time with my professors," Williams said.
Williams received a lot of support from LCCC instructors at each campus, saying that her English instructor, Scott Keim, was a major influence.
"He had so many encouraging words. He just pushed his students to try harder and to do their best and he never gave up on them. So it was really nice to have him as a professor."
Williams built on the encouragement and support from her professors and provided support and help for her own classmates.
"On numerous occasions, I observed her helping struggling students with their work," Keim said. "Rarely do I have a student in class who is willing go above and beyond to help their classmates and still perform at the level that Kira has. She is a natural leader, a true scholar and a genuinely nice person."
Williams also saw her own enthusiasm for science in her physics professor, John Desko.
"He's extremely patient with everybody, and you can tell that he gets so excited to teach. He gets so enthused. That's what I love about him – he's just an amazing guy."
While Williams was impressed with Desko's enthusiasm, Desko appreciated Williams' diligence as a student.
"I think that what will really set her apart from her peers is her focus – the ability to see quickly what needs to be done and follow through on it. She is always super-prepared," Desko said.
Williams connected with her peers at LCCC, as well, and developed friendships with her classmates.
"I liked meeting all the different personalities and seeing the dynamic differences between them. Even though they're all so different, they are still some of your greatest friends and that's what I've enjoyed most," Williams said.
Williams earned a place in the LCCC chapter of Phi Theta Kappa, the national honor society for two-year colleges. She served as the group's social media manager for the spring semester and volunteered at several fundraising events with LCCC.
She learned about the All-Pennsylvania Academic Team during her time in Phi Theta Kappa and decided to apply for the scholarship, which was a lengthy process with strict requirements. A GPA of 3.5 is necessary to be considered and Williams was required to write multiple essays.
"It was long and it was difficult, but hard work, in the end, it really does pay off. I couldn't be happier," Williams said.
In May, Williams graduated right alongside her brother, Shane, who was a dual enrollment student at LCCC earning an associate degree in business. Shane will also graduate from Lehighton Area High School this spring.
Williams' mother, Jennifer, also studied at LCCC, and Williams' great-grandmother, Eleanor Mily, represented Lehighton Area School District on the college's board of trustees from 1979 to 2000. She served as the chairwoman for two years, from 1992 to 1994.
Williams will start as a junior at Kutztown University in the fall.
"All the people at Kutztown are so nice and I hear a lot of good things about the professors," Williams said. "Not to mention that I am an education major and they started out as a teacher education school. So it was like the icing on the cake."