LCCC Aviation Students Receive Job Offers from ExpressJet
By Gianna Destefani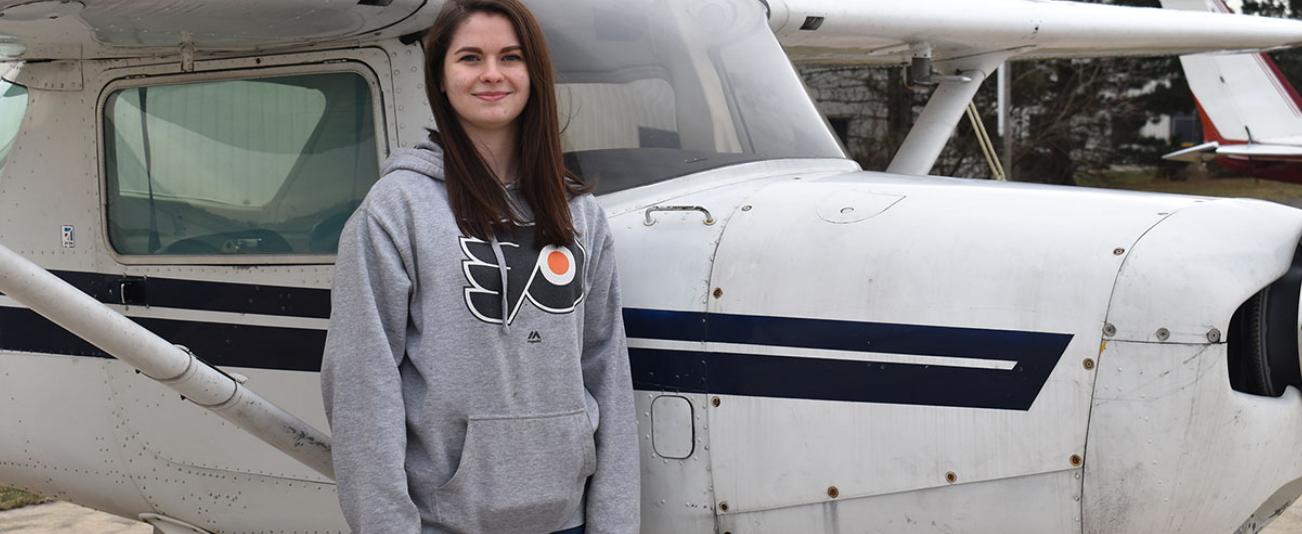 Lehigh Carbon Community College strives to ensure that its students have a clear career path after graduation.
One of the best examples is the college's partnership with ExpressJet, through which qualified aviation students have an opportunity to interview with the regional airline and receive conditional job offers.
"My dad is an airline pilot and my mom was a flight attendant, so it's in my blood," said Clarissa Clement, one of the students who was offered an ExpressJet position during the fall 2017 semester.
Aviation at LCCC
Clement found her passion for flying after initially studying nutrition and realizing that wasn't the career path for her. She tried an introductory flight – one of the first steps in deciding whether to pursue a pilot's license – and that's when she found her spark.
They'll take you up in the plane so you can get a feel for it," Clement says. "That's when I knew I wanted to do it."
LCCC's Professional Pilot program is accelerated and intense, and Clement and Aviation Program Instructor Mark Reimann both stress the importance of having the drive to succeed in the program, which is full of practical, cumulative content.
"You just need to be dedicated," Clement says. "This is not really a program to be undecided with. It's a lot of time, it's a lot of studying, but once you get to your end goal, that's really when it's worth it. You really just need to have that passion behind it."
"This is going to start out as if you're drinking out of a garden hose, then somewhere around week 5, you'll say, 'Who changed that to a fire hose?'" Reimann says. "If you don't arrive dedicated, you'll either become dedicated or pick something else to do. The learning never stops … It's all theoretical until you have a 20-knot crosswind that you have to land. Then it becomes real."
Path to a Career as a Pilot
Dedicated students like Clement have the opportunity to take advantage of the Pilot Pathway Agreement, which was coordinated by LCCC Chief Flight Instructor Aram Basmadjian.
After students earn an instrument rating, which typically happens during their second semester, they are eligible to be interviewed by ExpressJet pilot recruiters. The students must prove their knowledge by answering technical questions concerning instrument approach procedures, flying skills, and hypothetical scenarios.
If the interview is successful, the students continue their coursework and must graduate with a GPA of at least 3.0. Upon completion of the program, the students will already have earned 225 to 250 hours of flight experience.
Then, the students need to earn their Airline Transport Pilot Certificate, which normally requires 1,500 hours of flight time, but LCCC Professional Pilot degree graduates who successfully complete the instrument and commercial ground and flight training earn the eligibility for the ATP at 1,250 hours of flight time. The students then stay on at LCCC as a certificated flight instructor to obtain the ATP-required hours. This step is crucial, as it demonstrates to ExpressJet the value the students put on giving back to the aviation community.
Once students meet their hours, they are ready to start as an ExpressJet first officer after roughly three and a half years.
"We get our graduates to the right seat of a regional airline faster than a four-year college graduate can get there," Reimann says, pointing out that students at four-year schools will still be working on their 250 hours of flight time in roughly the same timeframe.
Alex Torres, a first officer and AP3 (pathway program) manager at ExpressJet, highlights the experience of LCCC's flight instructors and the benefit to LCCC students.
"LCCC's flight program is unique compared to almost all other programs because many of their flight and ground instructors are either current, former or retired airline pilots. That is almost unheard of in this industry," he says.
"Aram Basmadjian clearly has one of the most experienced and qualified team of flight instructors that I have seen in 15 years of flying. It is this level of experience and depth that makes LCCC's program an excellent place for future pilots to begin their aviation training and education. It was no surprise that each student that tested (in fall 2017) passed the interview and received a conditional offer of employment."
Many regional airlines only require an associate degree for employment, while national and international airlines typically require a bachelor's degree. Clement plans to continue her education by getting a bachelor's online while working toward the required 1,250 hours of flight time to start at ExpressJet.
Once they are employees of ExpressJet, students in the Pilot Pathway Agreement also have the opportunity to interview with United Airlines, according to Torres, who recently passed his own interview with the major airline.
There are plenty of aviation jobs currently available, Reimann says, pointing to Boeing's Current Market Outlook 2016-2035 study that predicts a worldwide shortage of pilots in the coming years.
"There has never been a better time to be a pilot," he says.