LCCC Alumna Returns to Teach Future Educators
By Alicia Durst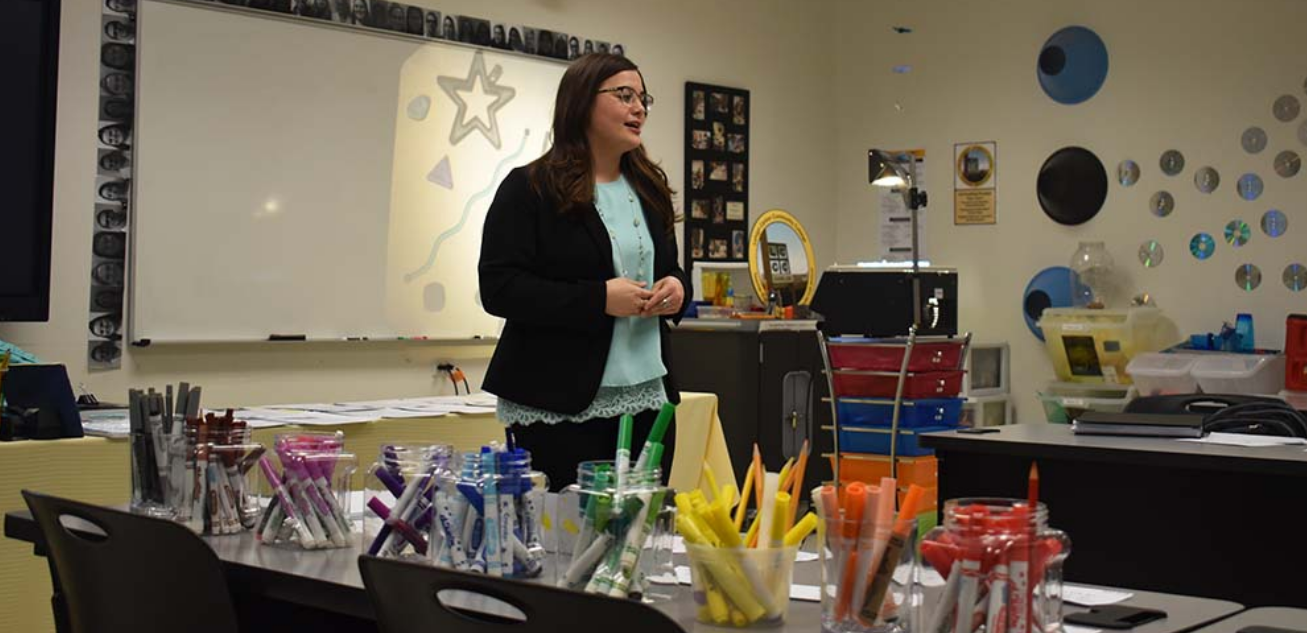 Jaclyn "Jacki" Hudak started her classes at Lehigh Carbon Community College in 2012 with the goal of earning a degree and working with children.
Six years later, Hudak has now returned to LCCC as an instructor, teaching one of the classes that she took several years ago when she was working on her associate degree in Early Childhood Education.
"The students know that I was once a student in the program, so they know I understand their struggles and workload," Hudak said. "I love watching their growth and development. I like making my little impact on the world."
Academic Success at LCCC and Beyond
Hudak was committed to being involved in the college community while at LCCC. She was part of the Honors Scholars program while also serving as president of the Teacher Education Student Association, vice president of the Kappa Delta Pi International Honors Society of Education, and a member of Phi Theta Kappa and the psychology honors society.
Hudak completed her field placement at Asbury Nursery School in Allentown and her internship and student teaching experience with Greenway Creative Learning Center in Whitehall. At Greenway, she was able to reinforce the Reggio, Montessori and Waldorf-inspired teaching practices as well as her own philosophy.
"I wanted to be somewhere that I knew I could explore my own teaching philosophy," Hudak said.
Hudak became a substitute teacher, which led to a promotion to lead preschool teacher at Greenway, giving her experience in both the infant and toddler classrooms.
After graduating from LCCC in 2014, Hudak transferred to Moravian College to earn her bachelor's degree in early childhood education and developmental psychology. At Moravian, she continued her membership in Phi Theta Kappa and Kappa Delta Pi as well as numerous other organizations, and she contributed to several scholarly articles.
"I acted as assistant researcher and I was co-researcher for some scholarly educational journals with professors at Moravian, focusing on early intervention in early childhood, working with young children with hearing loss," Hudak said. "That really sparked my interest to hone in on the field rather than being a lead teacher in a public school setting."
Hudak then became the interim director at Greenway, and was eventually promoted to full-time director. She went on to get her master's of education in educational leadership from Arcadia University in just one year, and found her niche in administrative leadership with a focus on urban education. Her graduate work opened a door at St. Luke's University Health Network in Allentown, where she was hired as the community school coordinator at Francis D. Raub Middle School.
Hudak now works with middle school students, many of whom experience difficult circumstances such as poverty, trauma and violence. She also works closely with the administration team to review school-wide data, which she analyzes to create programs and initiatives that support the students. Her role is data-driven, but focuses on putting the interests of the children first by working with community partners.
Returning to LCCC
After Hudak received her master's degree, two of her former mentors at LCCC – professors Laura Segatti and Melanie Wursta – reached out to her about an adjunct teaching position.
"I was always still connected with my professors at LCCC," Hudak said. "They always told me that I would be back once I got my master's."
Hudak was initially hesitant because she was accustomed to working with children instead of adults, but she applied for the position and was selected to teach ECE 120: Children's Growth and Development in the fall 2018 semester.
"They know I have a passion and a vision for this work in the field. I really connect with the education department and the vision that they share," Hudak said. "I am so grateful they pushed me to do this. I absolutely love it."
While teaching adults is different from working with children, Hudak found that the classroom structure isn't as different as she initially thought. She runs her classroom while modeling how she would act with children, from the way she gives feedback to the structure of her lesson plan. Her class always starts with a hands-on, decompressnng activity that leads into the curriculum, and class also ends with an experience that allows students to apply and reflect on what they learned.
"I give them activities that they could potentially use in their classrooms in the future," Hudak said. "I'm always modeling how I am in a classroom, which makes it fun and enjoyable."
Hudak also encourages her students to collaborate and network with each other, since she attributes a lot of her success and opportunities to networking at LCCC. Her former professor, Segatti, acts as a mentor for Hudak, and Segatti and Wursta frequently provide advice and guidance.
"I always knew there was something unique about Jacki," Wursta said. "I have watched her grow on her journey and I am so proud of her."
Impact of LCCC
Hudak attributes her professional success to LCCC. She thought initially that she would only earn her associate degree and work directly in the field of education. However, with the encouragement of her parents and professors, she chose to expand her education. She fell in love with the field of education, and her involvement at LCCC inspired her to continue at both Moravian and Arcadia.
"LCCC is my home away from home," Hudak said. "The 'start here, go anywhere' motto is so true. Professors always viewed me as a capable, competent student, and that is instilled in you here because this is like a family. My heart was always with LCCC and I am so grateful for it."
Her advice for future educators is to wholeheartedly believe in themselves as capable and competent, as active researchers and lifelong learners – and to stay lifelong learners.
"Stay true to who you are and transfer that in your teaching philosophy, and always view the image of the whole child in your classroom experiences," she said.
Hudak said she would love to be a full-time professor in the future, and is considering returning to school to pursue a doctorate degree. She will also teach ECE 120 again in spring 2019.