Honors Scholar Returns to LCCC to Encourage Students to Pursue Opportunities
By Alicia Durst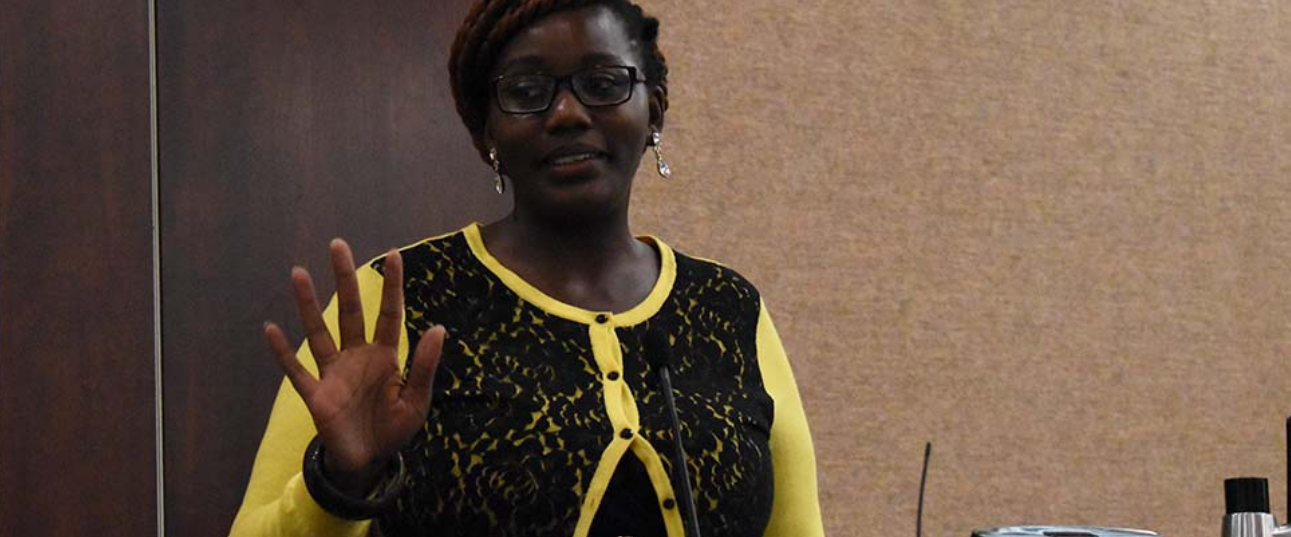 When she was a student at Lehigh Carbon Community College, Winnie Okello wasn't sure she wanted to apply for the college's Honors Scholars program. But thanks to her family's encouragement, she not only joined the program but excelled, going on to graduate from Bucknell University and eventually secure a position as a senior civil engineer with PennDOT.
"Say 'yes' to opportunity, even when it seems far-fetched or well beyond your comfort zone," Winnie told LCCC's current Honors Scholars during their induction ceremony in August 2018. "You never know what doors it will open in the future."
Winnie's family moved from Kenya to Pennsylvania when she was young, and she graduated from Whitehall High School. In the Honors Scholars program at LCCC, she joined other academically driven students. The program offers free tuition and an opportunity to pursue challenging projects similar to what students will find at four-year institutions.
"In all honesty, I almost did not apply to the LCCC Honors Scholars program. I'm here because of a lot of strong urging by my mother, who pushed me to reach beyond my comfort zone," Winnie said.
When she was asked to speak at this year's Honors Scholars Induction Ceremony, Winnie said she reflected on the lessons that she learned at LCCC. One of the biggest lessons was that there is a difference between intelligence and drive.
"It's not necessarily about how smart you are. It's your level of discipline that determines how successful you will become," Winnie said. She also talked about making sacrifices to get the education that she needed. For example, when her retail job didn't accommodate her academic needs while in college, she chose to make education her top priority.
She also encourages students to take care of themselves physically, emotionally, spiritually and mentally. Finding balance is another lesson that she learned during her academic pursuits. After graduating from LCCC in 2007, she transferred to Bucknell University and discovered that finding balance was crucial during that transition. She became involved in campus activities and joined a Christian fellowship group where she made friends with other students in her transfer program.
"As I slowly integrated into these organizations, I discovered a whole new understanding of self-identity in terms of both race and class. I joined and served as treasurer, vice president and president of Bucknell's chapter of National Society of Black Engineers," Winnie said. She also served as a student board member on the Bucknell Engineering Association and has been an alumni board member since 2010. She told students during the induction ceremony that being involved in the community is important as they move forward in their personal and professional lives.
During her senior year at Bucknell, Winnie was offered the opportunity to travel to Toronto for the National Society of Black Engineers' National Conference. She was hesitant about missing classes and the financial commitment, but ultimately joined the trip. The opportunity eventually led to a job with the Oregon Department of Transportation for a limited duration contract, then afterward, she gained experience as a staff engineer in a consulting company.
Winnie currently works for the Pennsylvania Department of Transportation, where she oversees the storm water management program. She also runs two websites: AfricaEngineeringNews.com and CosmeticScienceReview.com.
"These are passion projects, but running these platforms has required immense persistence and a willingness to continually learn new skills and exercise patience," she said.
Winnie has also been teaching the course Introduction to Structural Analysis at Harrisburg Area Community College as an adjunct professor. She enjoys encouraging her students and watching them pursue their dreams, just as she did at LCCC.
"I never really planned any of this, but it has all come back full circle. The skills I learned along the way, in both undergrad and industry, have made me better suited for each subsequent role," Winnie said.