Everyone is an entrepreneur, says LCCC alum
By Natasha Hague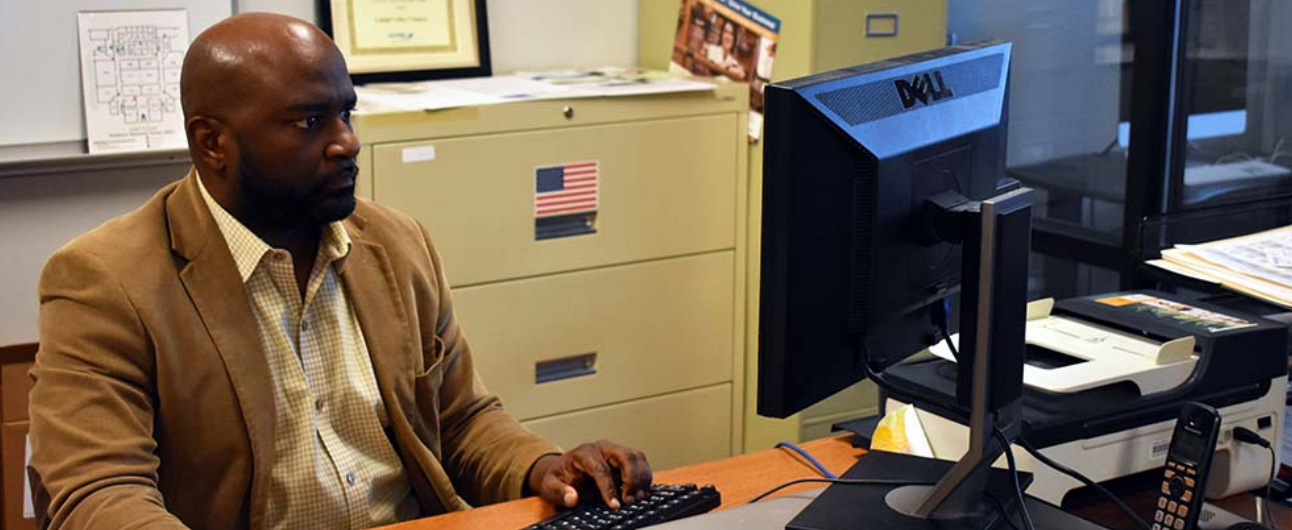 Tremayne Tatem believes that simply being human is entrepreneurial – anyone who motivates themselves to accomplish things is an entrepreneur.
"We are all entrepreneurs, but we go through life doing what other people want us to do and it hinders that ability," Tatem said. "I think everybody is and can be an entrepreneur but society does not encourage us to."
Tatem, an alumnus of Lehigh Carbon Community College, is leading the way for young entrepreneurs. He returned to LCCC and is now the part-time Entrepreneurship Education Specialist and facilitates the college's entrepreneur club. He also works with the college's Business Enterprise Center and runs his own company.
Getting started at LCCC
Tatem attended LCCC in the mid-1990s after being recruited to play basketball. While at LCCC, he worked toward an associate degree in business administration, and the program introduced him to the subject of marketing. Tatem became interested in the psychology behind why people make purchases.
"That class at LCCC made me realize this is what I want to major in," Tatem said of marketing.
After completing his degree at LCCC in 1998, Tatem was recruited to play basketball at West Chester University, but he quickly decided that West Chester wasn't a good fit.
"I decided to work for a year instead of continuing my education," Tatem said.
Tatem worked a full-time job in a telemarketing office, but one day he looked around and realized that he wanted more out of life.
"It was a serious reality check for me," Tatem said.
Tatem then decided to attend Temple University and pursue his bachelor's degree in marketing. He became president of the religion club, which he said helped keep him grounded, and he organized several events that brought hip-hop artists to campus.
"It was a good bounce back for me," Tatem said.
After graduating from Temple in May 2001, he got a position with Clear Channel Airport, but he was among the workers who were let go after 9/11. He moved on to work with the Wall Street Journal, representing the educational marketing department and helping professors integrate the Wall Street Journal into their curriculum.
Tatem enjoyed his work and thrived for 10 years, but when the Wall Street Journal reduced its staff, Tatem was again laid off.
"I decided I never wanted to experience that again," Tatem said. "I put so much energy into that job and then I just lost it."
Pursuing entrepreneurship
After losing a job that he loved, Tatem decided to take his career into his own hands. He pursued a master's degree and, three years later, started work on his own company.
"I was at a point in my life where I wanted something to be mine," Tatem said.
Tatem knew becoming an entrepreneur was something he was meant to do, remembering a makeshift baseball card shop that he created with his brother at 12 years old. The business – located in Tatem's basement – got so much foot traffic that his mother had to shut it down.
But while working on his company as an adult, Tatem quickly realized the difference between working for yourself and working for someone else. Because he was the only person, that meant he was responsible for everything – he had to switch his brain from marketing to accounting in the same day.
"The hardest part was how mentally taxing a day was," Tatem said. "I would work all day and not know when I would be paid next."
LCCC: Start here, come back here
Tatem started his business as a small email newsletter for young people, which later merged into the company now known as Zeroh Creative.
Tatem enjoyed going to Starbucks in downtown Allentown to work, and he met students from LCCC's Donley Center in Allentown. He would chat with them about business, school and starting a business, and he quickly realized that he was sharing his knowledge.
When a friend asked Tatem to co-teach a noncredit class in business, he took the opportunity. He discovered that he loved teaching, and that it benefitted both him and the students.
"I would talk to them about what was happening to me that week," Tatem said. "It ended up being educational for them and helpful for me."
Tatem had to be honest with students about how difficult being an entrepreneur can be. He told many students that they just needed to do it, because it's the best way to learn the needed skills.
"You have to have passion and persistence," Tatem says. "You'll need leadership skills and be self-directed."
Running the Entrepreneur Club
In spring 2018, Tatem became the Entrepreneurship Educational Specialist of the Business Enterprise Center at LCCC. Instead of teaching a class, he was now facilitating any student who is interested in starting a business, along with supporting the BEC's entrepreneurship club and Global Entrepreneurship Week.
LCCC's BEC is a place for students to get help from experts to develop a business plan. The faculty help students with marketing, business design and potential financing. The center also holds an annual boot camp, which includes expert speakers and even a pitch competition, in which students can pitch their business ideas to a panel. The next boot camp will be Oct. 19 and 20.
One of Tatem's goals is to inspire young leaders to follow their entrepreneurial dreams and make an impact the business world. He is looking forward to Global Entrepreneurship Week, which is Nov. 12 through 18. The week includes events and competitions among members from 170 countries, and there will be networking and entrepreneur-based activities and presentations.
"I think a part of my passion is creating an ecosystem in the Valley for entrepreneurs," Tatem said.
-Natasha worked as an intern in LCCC's Office of College Relations in summer 2018. She transferred to Cedar Crest College to pursue a bachelor's degree in New Media.