Disney Internship Program Celebrates 30 Years at LCCC
By Hannah Mills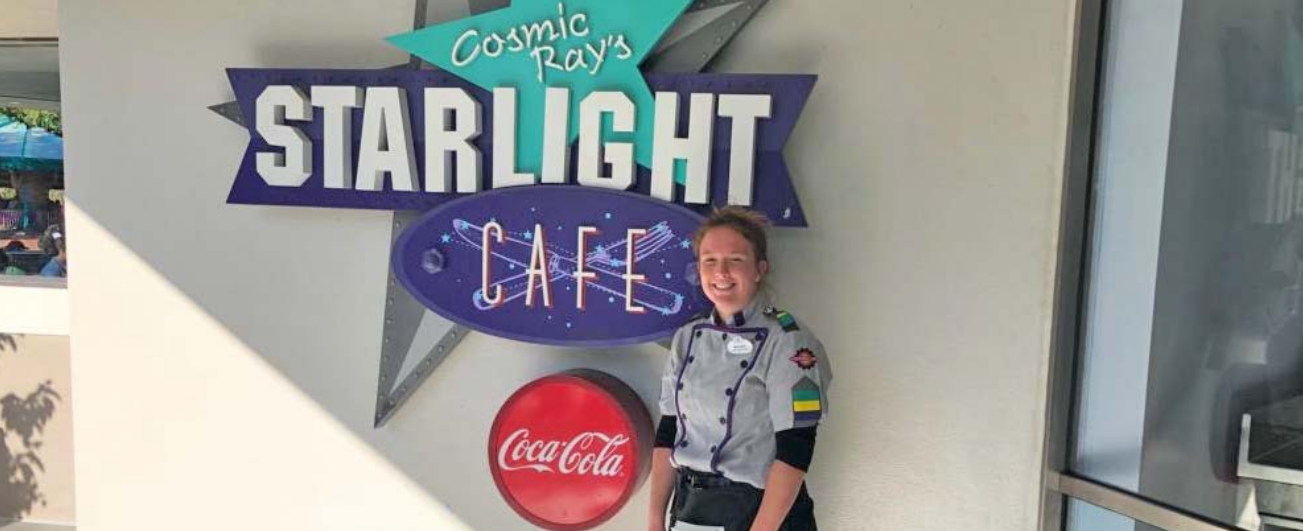 Most students would love the opportunity to stay in Disney World for four months, but getting paid to work there for college credits is even better.
"I think it's a fantastic program," said Tara Haney, a former student at Lehigh Carbon Community College who participated in the college's Disney Co-Op Program and is pictured at right in the below photo. "I made some lifelong friendships as well as getting a great experience working for a company like Disney."
The Disney Co-op Program is celebrating its 30th year at LCCC. Since 1981, college students from around the world have interned with Disney, and LCCC started its program in 1989. Since then, more than 400 LCCC students have participated in the paid internship at either Disney World in Florida or Disneyland in California. Seven LCCC students are working at Disney in spring 2019.
"It's a fantastic opportunity, especially for people to get away from their norm, their own culture, their own community and really experience what it's like being around people from all over the world," Haney said.
Haney participated in the program in 1994 while working toward an associate degree. She was part of the custodial staff in the Magic Kingdom, which she enjoyed because she moved around the park and interacted with visitors.
"That opportunity to go to Disney changed me as a person and I think it helped me grow as a person," Haney said.
She graduated from LCCC and went on to earn both bachelor's and master's degrees. She is now a part-time instructor at LCCC, teaching sociology to the next generation of students.
"The college program really opened doors for me in a lot of ways," Haney said. "After I got back, I got a lot of job offers because they saw Disney on my resume. Having Disney on your resume increases your opportunities."
Students receive six elective credits from LCCC for completing the internship. These credits must be paid for just like course credits, but financial aid may cover the cost. If students want to have a full-time, 15-credit semester, they can take online classes during the internship.
The Disney Co-op Program offers varied job experiences and it is open to all majors. Quick service food and beverage, merchandise, attractions, lifeguard duties and custodial staff are the areas with the most job opportunities, but positions are available across the company.
Madison Kugler is a business management student at LCCC who expects to graduate in fall 2019. She works at Cosmic Ray's Starlight Café, which is located near Space Mountain in the Magic Kingdom.
"I would highly recommend it," Kugler says of the program. "It's an amazing opportunity because of the experience you gain and the people you meet."
Disney also offers college classes that students are welcome to participate in. These classes typically are not for credit but for personal improvement.
"There is a lot of opportunity to network," said Walt Sweedo, a retired LCCC instructor who has led the Disney program at LCCC for all of its 30 years. "They have great opportunities within the program, including a lot of guest speakers every week so that students can learn about different aspects of the hospitality business."
Students are paid between $10 to $15 an hour and work about 40 hours a week. They contribute toward housing on Disney property from their weekly paycheck and also pay for their own food and entertainment, but they have free access to all the theme parks and transportation between them.
The application for the internship is online and extremely selective, and there are multiple stages in the application process. Applicants at LCCC must be a current student in good academic standing.
"It's been very satisfying because I've seen a lot of my students develop and grow and flourish," Sweedo said.