Commencement Speakers Share LCCC Experiences
By Sara Karnish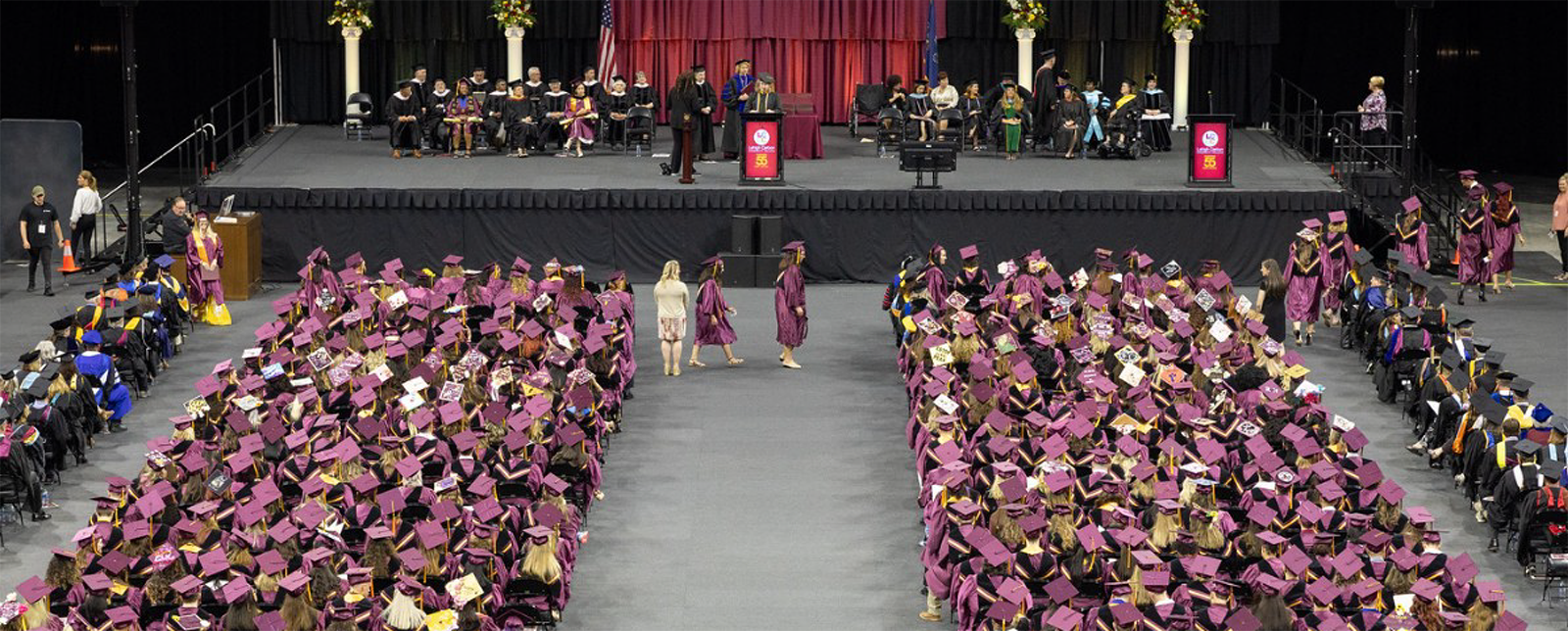 This year's commencement speakers – Laurisa Gruver and Shanise Cooper – both reflected on the challenges of attending college during a pandemic. In their address to fellow graduates and the 2,000+ attendees at the May 16 ceremony they shared their experiences attending LCCC in these unique circumstances.
Laurisa Gruver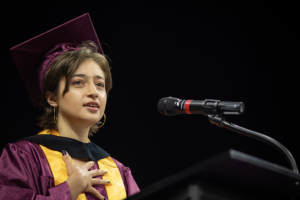 As a communication major at LCCC, Laurisa Gruver used the skills she developed as editor of The Paw Print student newspaper and member of the Art Club and Phi Theta Kappa honor society. Her campus involvement complemented the engagement she found in the classroom. "I enjoyed being involved in class discussions and getting a taste of the on-campus college experience," she said. "My time at LCCC reminded me how much I enjoy school."
Gruver initially chose LCCC, "For a great education that was accessible in a difficult time."  She graduated high school in 2020 at the height of the COVID pandemic, which cut her senior year short and affected her in other ways. "Isolation and Zoom classes caused me to close up and I became shy and anxious, which is a bit of a problem for a communication major," she says. "When I first started in-person classes at LCCC, I didn't say a word and always felt nervous." Slowly, her face-to-face courses helped her open up. "I shared stories in class, joined clubs, and overcame my insecurities. I look forward to bringing this newfound confidence into my future."
In her speech, Gruver spoke about how COVID impacted her as both a student and a person. "It felt right to discuss how the pandemic changed us and made us stronger—how it developed us into who we are today. My goal was to primarily focus on this change and what we accomplished, because that's what graduation is about—celebrating how we've grown and what we've achieved."
Next up for Gruver is pursuing a professional writing degree at Kutztown University.
Shanise Cooper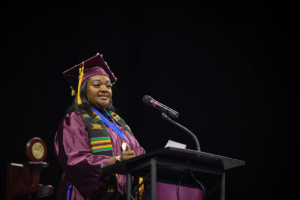 For Shanise Cooper, returning to school as an adult learner was daunting at first; however, her determination quickly overcame her uncertainty. In her previous job as a technician at St. Luke's University Health Network, Cooper regularly worked alongside nurses, leading her to consider a nursing degree at LCCC. After learning more about the profession, she had a change of heart. "I always loved helping people, but I used to think I had to work in a hospital to do that. When I realized that wasn't the case, I changed my major to communication. I would watch motivational videos and began to feel inspired to speak to other people and help them see themselves in a better light," she said.
Being a full-time mom and student left little time for joining campus clubs or activities; however, Cooper enjoyed the many events held throughout the year. "The job fair was the best one, because I haven't been working since I changed my major. Looking for work after getting a degree is hard because you lack experience. I also enjoyed the professors. Every professor I had was understanding and helpful through all assignments."
Cooper plans to take a few months off to focus on building her brand, Embrace a Greater U, which she describes as, "an LLC that provides self-love videos and quotes to help you have a better day."
Next spring, Cooper plans to attend Delaware State University and pursue a degree in social work. She is proud of her accomplishments at LCCC, saying, "I am most proud of the person I have become. I am a better listener and have gained so much more self-respect after taking certain classes."