Coach Leads LCCC Soccer Teams to New Success
By Leanne Recla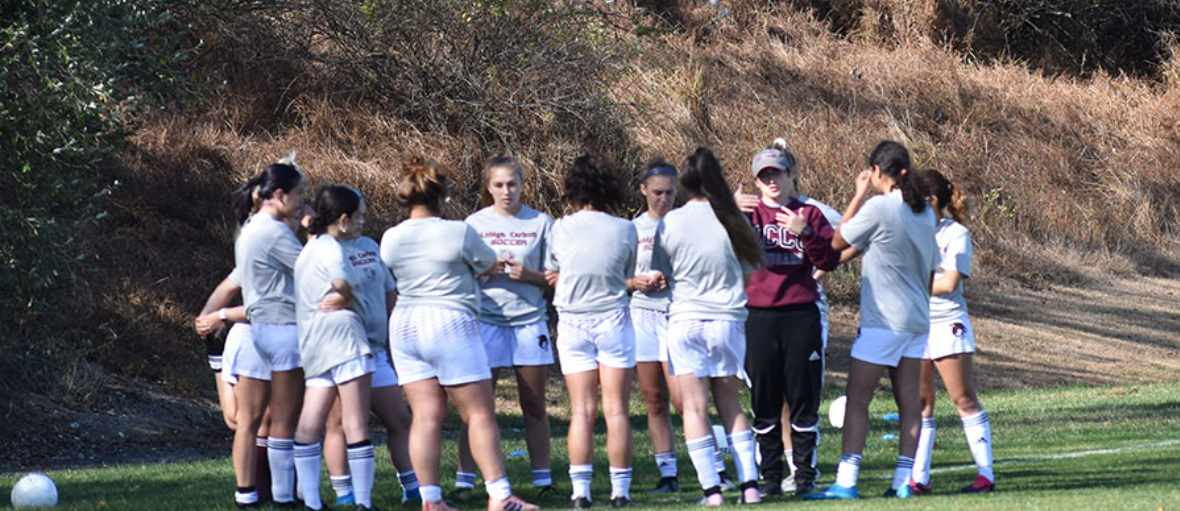 Nicole Pietrobon has been helping soccer programs grow since she was a student herself.
Now, as head coach of both the men's and women's soccer teams at Lehigh Carbon Community College, she has played a major role in both programs' recent successes.
"It's my passion. A lot of the programs that I've been a part of were still being built, and that's my coaching experience," said Pietrobon, a 2010 graduate of DeSales University who led the university's soccer team to the Mid-Atlantic League semifinals in 2006 and 2008.
After serving as a head coach at Cedar Crest College, Pietrobon joined LCCC as head coach for the women's team in the 2017-18 school year. The program was still relatively new, having been a club as recently as 2016.
"That's still pretty young for a varsity sport in collegiate athletics," Pietrobon said. "That's what is challenging and rewarding – the recruiting process and growing the program."
During that same year, the men's soccer team didn't play because they didn't have a sufficient number of athletes for the roster. But two students – William Merk and Ionnis Kataxakis – were determined to get the team up and running for fall 2018. They organized an off-campus indoor team and, through that and a summer league, spread the word about LCCC's soccer program.
"It helped us get the word out, because a bunch of those players came to LCCC to sign up, and others from our high school came to LCCC to play, too," said Kataxakis, who along with Merk is a graduate of Emmaus High School.
Thanks to their efforts, the men's soccer team had 16 athletes on the roster for fall 2018 – enough to establish a varsity team. So Director of Athletics Andrew Johnson asked Pietrobon to coach both teams.
"I was able to convince her to try coaching both teams and she flourished," Johnson said. "She has done a nice job in the early stages building both programs. Her knowledge of the game, organization and ability to lead are key to her success thus far."
Pietrobon, a native of Allentown, has been coaching male and female soccer teams at various levels since 2006. So even though a woman coaching a men's soccer team is unique, it was a natural fit.
"Our men's and women's programs are similar and I run them similarly," Pietrobon said. "I've found that the skills they need to learn, whether it's tactical or technical, are the same. Regardless of whether it's men or women, college freshmen and sophomores coming right out of high school are still learning the same techniques and lessons."
Pietrobon started coaching both teams in Fall 2018, juggling the teams' different schedules and her own job as a registered nurse at Thomas Jefferson University Hospital in Philadelphia.
"Nursing requires long days but thankfully it's on a flexible schedule, and my assistant coaches were a big support," she said.
Now in 2019, with the teams' schedules in sync, the work that Pietrobon has done to rebuild both programs has started to pay off. The women's team qualified for the Region XIX semifinals for the first time in the program's history, while the men's team tripled their wins over last year and scored 32 goals, breaking the single season record. Two LCCC athletes were also named to the All-Region soccer teams – Shemoore Clarke and Sandy Day, who led their respective teams in goals in the 2019 season.
"Commitment is big for both teams. We have unique student athletes here – they balance a lot of things: work, family, friends, then school on top of that," Pietrobon said. "We had athletes who were really committed and that worked for us. A lot of them have been trailblazing this year."
Looking forward, the women's soccer team will compete in Division II in the 2019-20 academic year, which will allow LCCC to offer athletic scholarships to the players.
For the men's team, Merk and Kataxakis served as captains after helping to re-establish the team. The team didn't qualify for the playoffs this year, but the roster increased from 16 players to 26 in 2019, and interest continues to grow.
"If I see this team competing in five years, I'll still consider that a victory, and something I'll look back on proudly, knowing that I helped," said Merk, who will complete his degree at LCCC in spring 2020. Kataxakis will finish his courses during the winter semester.
Pietrobon will continue to coach both teams next year, and looks forward to recruiting new players and helping them grow both athletically and academically.
"There's a lot of lessons in sports. Through the ups and downs, there's always something you can do to positively affect students' lives," she said. "The longer I do this, especially at the collegiate level, the more I've learned that, at the end of the day it's not about the wins and losses. It's about the students you are helping on a daily basis."