Basketball Standouts and New Coach Lead Lehigh Carbon Community College to Playoffs
By Leanne Recla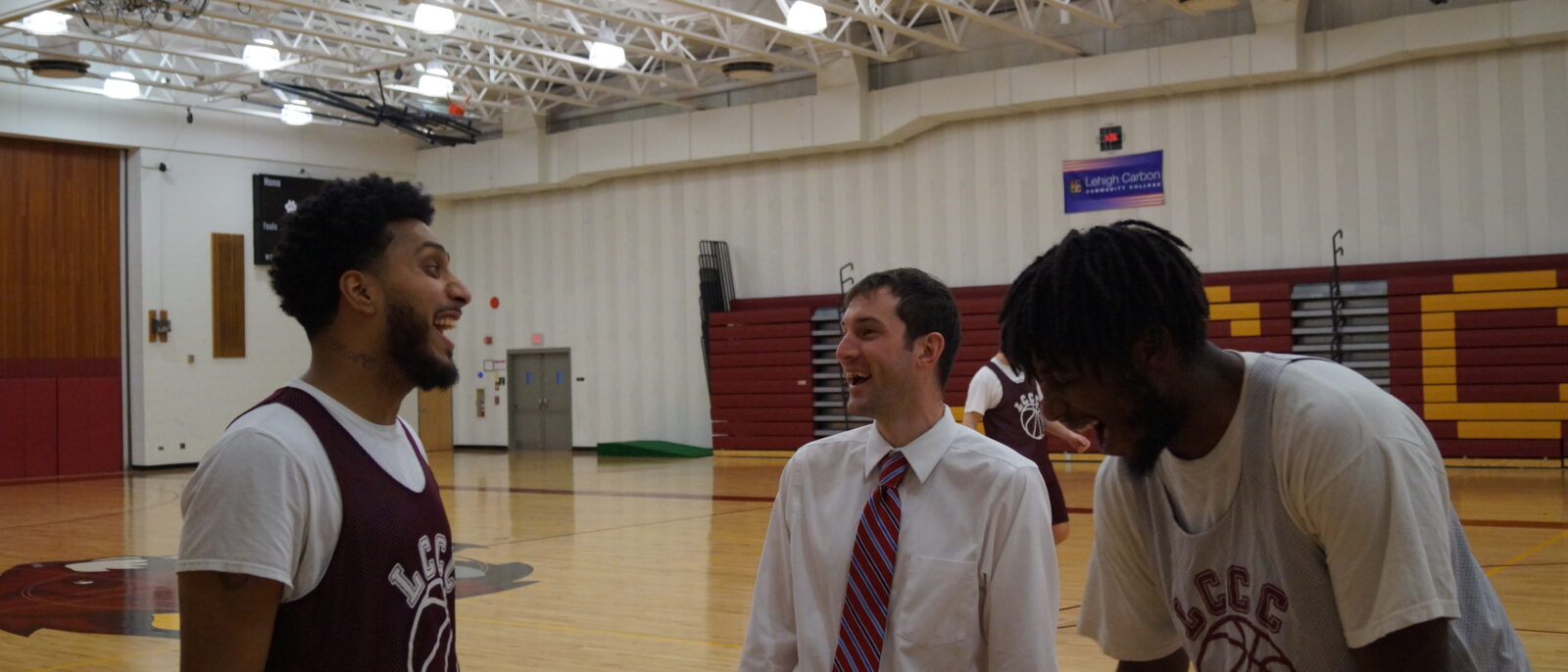 Basketball isn't just a game for Dotte "D.J." Brown.
"It's like a sanctuary for me. Growing up, my father passed away when I was younger … but no matter what, I'd always be able to go play basketball and clear my mind. It gave me time to think, to center myself."
The 23-year-old Lehigh Carbon Community College student helped lead this year's basketball team into the playoffs, ending the season 14-17 overall and 14-9 in the Eastern Pennsylvania Athletic Conference, which puts the Cougars in third place out of 10 teams.
That's a 13-game improvement over last year, when the Cougars finished with a record of 2-26 – one of those wins was due to a forfeit.
"The 2016-17 season, under new leadership, made a complete 360 from previous season," says Andrew Johnson, LCCC's director of athletics. "Led by D.J. Brown and Erick Marfil on the court, the Cougars had a lot to be proud of by qualifying for the Region XIX Tournament. The consistent play and leadership abilities of these two young men was truly what the program needed to get back on track. We look forward to having them back for another run next season."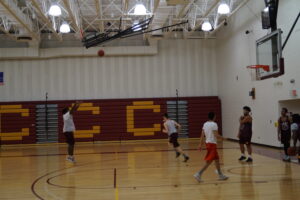 Brown finished the season leading the National Junior College Athletic Association in total points and third in average per game. He and Marfil, 27, were the team's captains this year.
Marfil had a great season, too. He finished second in the NJCAA in total assists and average per game, and he was recognized as the EPAC Athlete of the Week the week of Feb. 6.
"It's a combination. It's our coach. It's the players. We're close, like family," Marfil says of the team's success. "Getting beat up at the beginning of the season, after going through that adversity, we came back and became the team we are today. Once we got that first win, we just took off."
The team's new coach, Grant Whary, graduated from William Allen High School in Allentown in 2003. He coached his first year at LCCC for the 2016-17 season, and his philosophy focuses on creating a positive atmosphere for the team.
"Discipline is the first thing. The second is patience … if somebody makes a mistake, I never yell at them. I never yell in the locker room. I'll just take them aside and explain what I need them to do."
He also encourages his players to give their own feedback during and after games, creating a collaborative atmosphere that gets his players more involved.
"My favorite thing about Coach is that he trusts us… he gives us freedom on the court, the decision-making ability, which strengthens our captain role," Marfil says.
Whary has known Brown for about six years, having coached him at William Allen. Brown originally attended Lock Haven University, but when things didn't work out he returned to Allentown, where he got a job and continued to play in adult leagues.
He decided to enroll at LCCC in Fall 2016, and he's now studying Music/Sound Production with the goal of transferring to a Division I school to complete his four-year degree.
He also definitely wants to keep playing basketball.
"My teammates make me who I am," Brown says. "I've always been the kind of person who helps somebody … and just seeing my teammates getting better helps me build my skills."
His co-captain, Marfil, was the oldest player on this year's team at 27. He attended both William Allen and Louis E. Dieruff High Schools in Allentown but never graduated. After having two children, however, Marfil got his GED and is now enrolled at LCCC studying Social Work. He also hopes to transfer to a four-year school and keep playing basketball.
"I've been through a lot before going to school. I'm not a typical student," Marfil says. "So I think about that, my kids, I care about all my players, everyone on the team. I'm kind of like the dad on the team, so I make sure everybody's good. I kind of got to set the tone for them."
Both Brown and Marfil work with youth players at basketball camps and tournaments around the Lehigh Valley, trying to instill the same values of hard work and positivity that helped them be successful.
"This is my outlet," Marfil says of basketball. "Everybody's got their problems, the stuff they deal with every day. Basketball is a good outlet for me, to relieve stress. It's just pure fun for me, at the end of the day. I just love it."