Alumna of LCCC's Vet Tech Program Climbs Mt Kilimanjaro
By Megan Sciarrino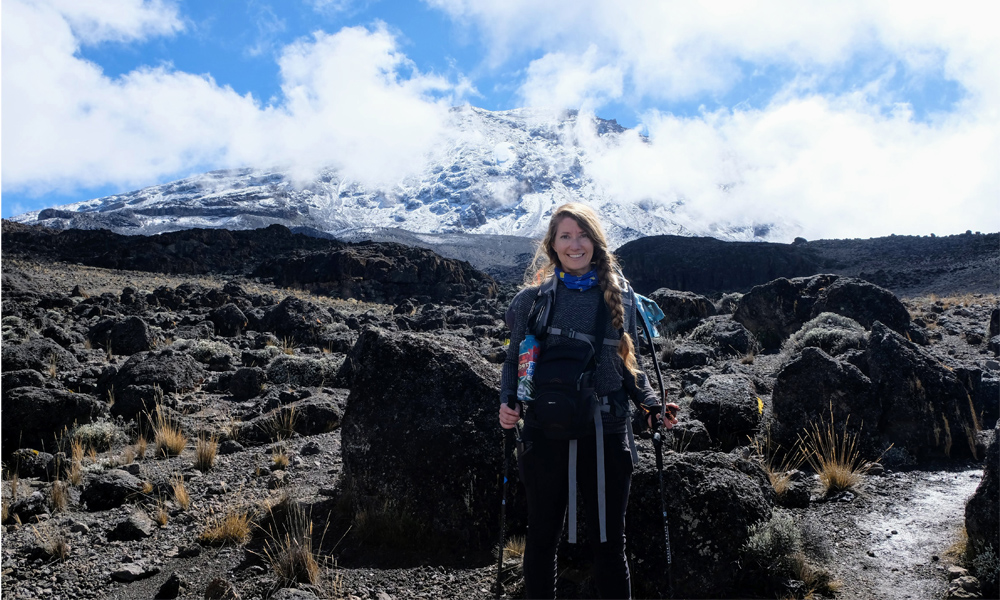 "I'm sorry this adventure didn't play out like you'd hoped, but one of these years, we will plan our own adventure in Africa!"
Lehigh Carbon Community College alumna Kate Alvarado wrote the note in a card to console Kat Madigan, her best friend and Colorado State University roommate, upon learning that Madigan's internship in Africa wasn't going to happen.
Alvarado was a senior at Colorado State in 2004, well on her way to completing a bachelor's degree in microbiology. Alvarado felt for Madigan, but the lack of internship meant one more year of hiking adventures with their dogs, Everest and Berkley, German shepherd mixes.
They loved the outdoors, and the "Two Ks," as they called themselves, dreamed of mountain destinations beyond their familiar foothills. They would say, "Since we're the two Ks, we'll take on K2!"
Start at LCCC
Before Alvarado started dreaming of climbing some of the tallest mountains in the world, she grew up the oldest of four children in Orefield, Pa.
Alvarado knew she wanted to work with animals from a young age.
"I was pretty sure I wanted to be a veterinarian. I also thought about training guide dogs," she said. "Ironically, growing up, we only had a cat."
Family friends Reuel "Bud" Musselman and his wife, Joyce, kept ponies as a hobby. Alvarado helped them regularly, which fed her interest in veterinary medicine and her affinity for the outdoors.
"Many weekends were filled with chasing ponies around, cleaning out stalls, and the excitement of watching foals being born," Alvarado said.
Through the Musselmans' daughter, LCCC professor Dr. Robin Musselman, Alvarado learned about LCCC's joint veterinary technician program with Northampton Community College.
"The two-year program was perfect for exploring animal anatomy and physiology right away," Alvarado said. "I heard horror stories of others going to school for eight years only to discover it wasn't really what they expected or wanted. I wanted to make sure I could handle some of the medical classes successfully first, and LCCC allowed me to do that."
Dr. Susan Stadler Morris, who developed the degree in 1997 as the first American Veterinary Medical Association-accredited joint program, mentored Alvarado during her time at LCCC, and encouraged her to continue her studies to become a veterinarian. Morris suggested Alvarado consider Colorado State University, her alma mater.
"It was a perfect fit for my outdoors lifestyle and it was the program I wanted," Alvarado said.
After Alvarado graduated from LCCC in 2001, she transferred to Colorado State to major in microbiology. She stayed on an extra semester at LCCC to clear some prerequisites, and she took additional classes during her first summer home from Colorado.
"I cannot say enough how much LCCC really supported my transfer," Alvarado said.
Exploring the Outdoors
With her associate degree from LCCC, Alvarado landed a part-time position with a veterinarian recognized for small animal surgery while studying at CSU. Upon graduating, she was accepted to veterinary medical school, but life had other plans. She met her husband and soon started a family.
Today, Alvarado resides in Virginia, just outside Washington, D.C., and teaches seventh- and eighth-grade science.
Over the years, Alvarado and Madigan remained connected and never forgot their dreams of climbing.
In December 2018, the Two Ks took on Mount Kilimanjaro in Tanzania. At 19,340 feet high, it is the highest free-standing mountain in the world. Madigan, who was prepping for a move at the time, came across the aforementioned card a month earlier.
Alvarado said, "We joked that it wasn't K2, but it was another 'K' mountain."
They chose a seven-day route and used a guide crew for supplies and to prep food. From rainforests to ice fields to a caldera above the clouds, the group covered diverse terrain.
"By day five, we'd made it to the high Barafu Camp. The terrain there looks like you're on Mars," Alvarado said. "The sign says you're 5k from the top. I'm a runner. I know that distance, but when I read it was going to take us seven hours to summit Uhuru Peak, I knew it was going to be a mental game."
They set out for the summit in total darkness and in very different gear.
"Six days earlier we were in tank tops and now we had several layers, toe warmers in our boots and were told our water was going to freeze," Alvarado said.
A trail of headlamps appeared to meld into the Milky Way above their heads. To manage the trek, Alvarado counted her steps one hundred at time. They made it to the summit in 6 1/2 hours.
"We wanted to stay at Uhuru Peak forever," said Alvarado, but the guides advised otherwise. The atmosphere on the way back from the summit "was one of celebration" for the college roommates and lifelong friends.
"I first saw this as a trip for myself, but now I realize how much of it I want to share with my students," Alvarado said. "It's not just a science lesson, but a life lesson. It can take a long time for dreams to happen."
Alvarado says that viewing her trip as benefitting her students makes her think about her professors at LCCC.
"I ask myself, 'What did they do to make me love this subject so much? How did they make me feel confident in it and enjoy it?' That's something I really want to pass on to my students."
For more information on LCCC's veterinary technician program, contact Program Director Lisa Martini-Johnson at 610-799-1754 or lmartinijohnson@lccc.edu.