Futuros Empresarios/Future Entrepreneurs (FE) Program
Summer 2024 Residential Experience 
July 14 to July 19, 2024
Internship program will run for four (4) weeks
concluding with a graduation ceremony
The Futuros Empresarios/Future Entrepreneurs (FE) program began as a community initiative started by the Hispanic Chamber of Commerce of the Lehigh Valley. Since 2009, the Fé Foundation has partnered with local colleges and universities, businesses and other private sponsors to deliver a comprehensive educational life skills and entrepreneurial training program to Lehigh Valley high school students.
FE Program
The FE program includes a one-week residential experience at Northampton Community College (NCC). Lehigh Carbon Community College (LCCC) and NCC work with the participants to learn life and academic skills, career development education and entrepreneurship/business training. Upon concluding the educational and residential portion of the program, students are partnered with local businesses/organizations for internships where mentors share actual business experiences. Upon completing the internship, the students will receive their stipend at the graduation ceremony.
Other benefits includes:
Participation in the Fé Foundation's Math and Verbal Enrichment Program (SAT Prep)
A textbook scholarship for FE graduates to their college or university of their choosing (limited to 10 students).
Who Participates
The FE Program seeks:
10th and 11th grade high school students;
Latino students are highly desirable;
Students who are interested in the five-week summer training and internship with local businesses and organizations;
Residents of the Lehigh Valley.
How to Apply
Interested students are asked to complete the FE Program application – APPLY HERE. To complete and submit the application:
You will be asked to upload a personal essay minimum of 250 words
School counselor's name and email address. in order to request a letter of recommendation and transcript from your school, and
Parent's name, address, email and phone will be required.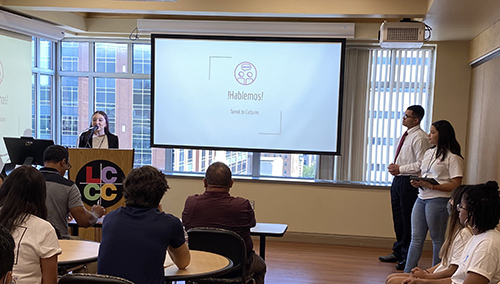 Personal Essay
A personal essay written by the student with a minimum of 250 words answering the following questions below is required.
Tell us about yourself and your reason(s) for applying to the FE Program.
Describe one person you admire. Why do you admire him/her.
Describe the career you desire to pursue after graduating from high school.
What have been some challenges that you have? How have you faced them? How has the experience benefitted you?
The personal essay must demonstrate the student's motivation, sincerity, responsibility, involvement in school or community service/activities and/or special circumstances that demonstrate ability to effectively and positively deal with personal challenges.
Application Requirements
Application with uploaded personal essay and school counselor's name and email address
School counselor recommendation
High school transcript
If selected, parental consent will be needed
Milestone Dates
February/March – Information sessions for students and parents
October 2023/March 2024 – Application Period
April – Selection of students
May – Student Orientation
July –  One-week academic program at LCCC and NCC
July/August – Four-week internship program at local businesses
August/September – Graduation Event
Contact Information
For students in Lehigh County, please contact
For students in Northampton County, please contact