Serving the Underserved
By Shane Baglini

Melanie Wilcox grew up in Allentown, knowing her situation was different from many other students at Parkland High School. A first generation college student, she has now dedicated her career to mentoring, research and advocacy for students similar to herself. "I knew since junior high I wanted to be a psychologist," says Wilcox. "In some ways it might seem that my path was clear, but it's not as clear as it might seem."
Because she earned her GED instead of graduating from Parkland, Wilcox says that she doubted herself, common among first generation college students from low socioeconomic backgrounds. "I think that was a major blow to my self-concept, my self-esteem and my self-efficacy for going to school. I think growing up it was a given I would go to school, but I was working a lot to put myself through high school."
Wilcox dropped out of high school in March of her senior year, just prior to starting the dual enrollment program at LCCC. "I couldn't continue working, going to school and taking care of my dad," she said. "I took on more and more responsibility, and I questioned whether or not I had the skills and abilities to do all of this."
Wilcox eventually found her way back to LCCC, and she credits LCCC for the basis of her educational achievements. "I was actually an assistant manager at Domino's Pizza when I came back to school and started at LCCC," said Wilcox.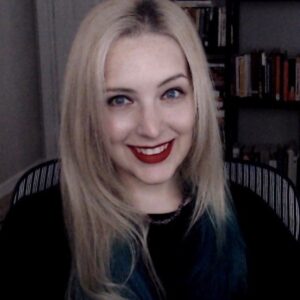 Wilcox still struggled to support herself throughout her time at LCCC. "Even though I had a sense of what I wanted to do, and what I'm ultimately doing now is what I dreamed of doing as a kid, so many things interrupted that dream that were specific to my social class." Her time at LCCC is marked by influential professors and support staff who helped her complete her degree, and earn money to pay her bills. "I felt very dejected by the time I came to LCCC, so having that kind of attentiveness from professors, that kind of support and cheering me on was huge. Not just in the tasks of getting through college, but in believing that I could."
Her message to students in similar situations and from similar backgrounds is to not believe what you might be told about who can go to college. "We receive a lot of messages about who belongs in college and who doesn't that are not accurate and not helpful."
Wilcox graduated from LCCC in 2007 and transferred to Cedar Crest College where she earned her bachelor's degree in psychology. She then went on to earn her Ph.D. in counseling psychology at SUNY Albany. She has realized her dream of working in psychology and as a teacher, working with and mentoring students of backgrounds similar to hers. She is an assistant professor in the Department of Psychological Sciences at Augusta University in Augusta, Ga. She also has an affiliation with the university's Institute of Public and Preventive Health.
Dr. Wilcox's research looks at issues related to racial and economic justice in a number of different areas pertaining to mental health and psychotherapy services. "One area of my research is multicultural competence and multicultural orientation of psychotherapists working with clients of color. So how do we train therapists who are culturally responsive and how do we know whether a therapist is culturally responsive and whether that's going to make a difference for clients of color?  I also look at issues of racial and economic justice in higher education. So I do research on the student loan debt crisis, on economic stressors that students face such as food insecurity, housing insecurity, and racial and social class differences in each."
Her research is as important as it is timely heading into a 2021 America that feels, to some, as divided as it has been in decades. "I think that this is definitely an important and timely topic right now. People have been shifting in that direction. The piece that I've always wanted to get back around to is how to interrupt racism."
During high school, Wilcox experienced the feeling of being shut out of social circles. This, in part, led her to begin her research in the area of racial constructs. "I wanted to understand racism better as a result of that and in my own family. Barack Obama's campaign and the subsequent racism led me to study that at Cedar Crest, still trying to grapple with what these constructs are."
Wilcox says the ability to mentor students of a similar background to her own is a great privilege. "It means a lot to me," said Wilcox. "Both because of my own experience, but also knowing and having a sense of the systems in place that don't make it easy for first generation college students, from low socioeconomic status to students of color."
The common misconceptions of those students still exist today, but Wilcox is working to transform their thinking. "They're very strong students, it's that they don't have the self-efficacy because of the ways they've been beaten down," said Wilcox. "I think some of the most important work that I get to do is be a cheerleader for those students, much the same way that my professors at LCCC were cheerleaders for me. I find that once a student puts themselves out there, they're more successful than they ever thought they could be, so that's something that's really important to me, to get to be a source of support for those students."