LCCC's SHINE Program Reaches its 'Next Level'
By Sara Hodon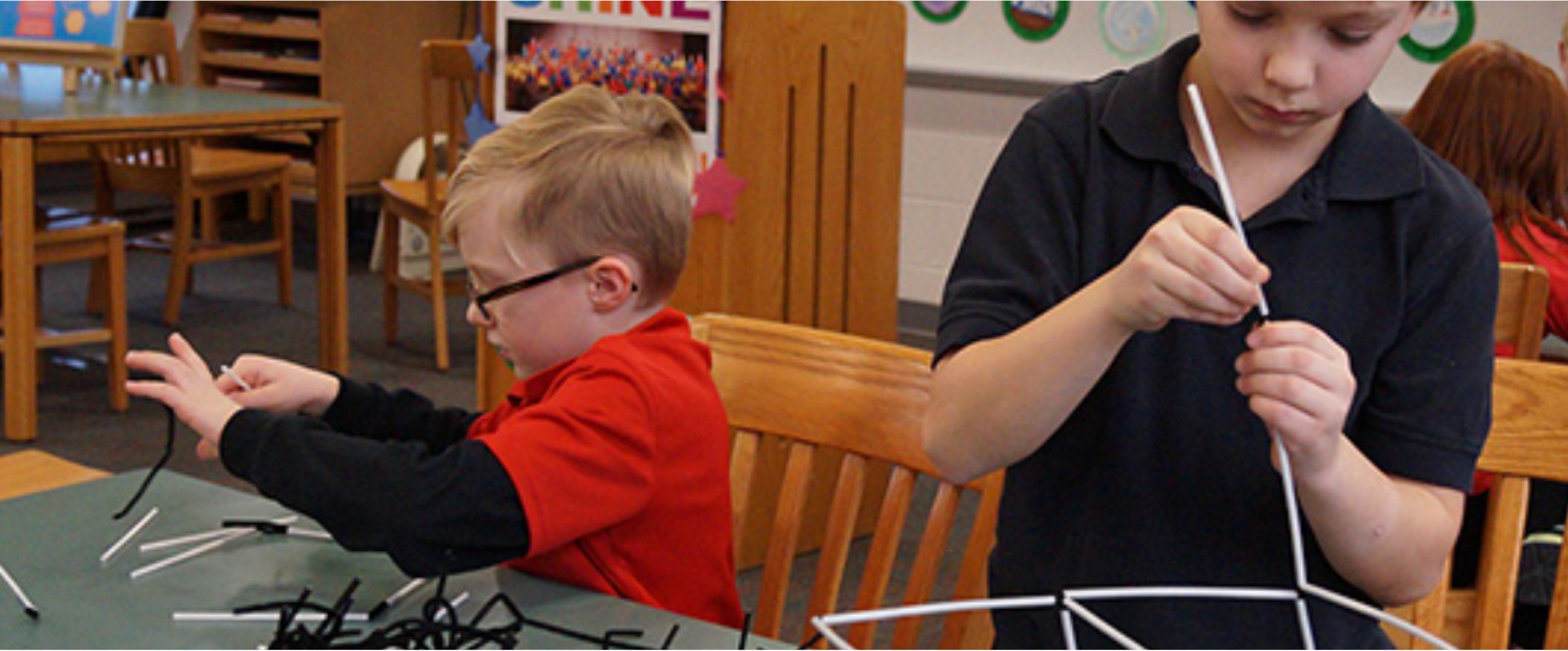 What started as an after-school program in 2003 to provide students with a safe environment to improve their studying skills and learn about career paths has grown into a model for after-school programs across the country.
The SHINE (Schools and Homes in Education) program now provides students in participating districts with opportunities to expand their STEM (science, technology, engineering, and math) knowledge that would likely not be available to them otherwise.
Collaboration and teamwork drive the program in an exciting new direction.
"The SHINE program is a true community success story," explains Rachel Strucko, SHINE director. "School administrators, guidance counselors, school day teachers and SHINE teachers have worked together to create a STEM-rich community driven by classroom innovation, forward thinking and future workforce opportunities. We have found that collaborating, sharing resources and shared professional development makes us stronger and we can better serve the students and families in our communities.
One example of sharing resources is the makerspace concept that was recently implemented at some of the SHINE schools, namely Jim Thorpe and Panther Valley.
"Through a generous Educational Improvement Tax Credit donation from UGI, we were able to create three makerspaces within the district," Strucko explains.
"During the school day, the district utilizes the space with its Project Lead the Way curriculum (a curriculum that stresses hands-on learning) and in the afternoon and evenings the SHINE program uses it for project-based STEM activities." A "makerspace" is a collaborative work area to encourage making, exploring, learning and sharing that uses high tech or no tech tools. Students have access to a 3D printer, laser cutter, CNC machines, soldering irons and other equipment that is used in a variety of projects. Best of all, the equipment is available for all students to use, not just those enrolled in SHINE.
The equipment within the makerspace is just that—tools that allow students to envision, design and build new and exciting creations while boosting their self-confidence, teamwork and critical thinking skills. These makerspaces allow students to take hands-on learning to the next level through innovation and creating something new. This is the first step toward entrepreneurship and business start-ups.
Robert Palazzo, principal at Panther Valley Elementary School, says that the district's collaboration with LCCC has been a huge boost for their students.
"All the items in our makerspace are items that our district would not be able to afford had LCCC not offered to make them available during the school day," he says. "There are areas where SHINE is instructing our teachers. While students are working with teachers, there are students doing other projects, like K'Nex building or working on a school-wide mural."
Panther Valley was the first district in Carbon County, and one of the first districts in LCCC's coverage area, to implement SHINE. Superintendent Dennis Kergick says that the program has been a tremendous asset to the district.
"SHINE has been a wonderful program for our kids. For an impoverished district like ours, it's provided wonderful opportunities, as well as support to kids who perhaps don't have certain resources at home. We're early in the makerspace process but I'm looking forward to seeing how the concept expands in our district."
Students are selected for the SHINE program based on certain criteria.
"There is a form that identifies potential students," explains Raymond Kinder, Tamaqua Area School District superintendent. "Some are at-risk, others are recommended by their teachers, others are chosen because of their academic performance."
SHINE reaches students from kindergarten through college in various ways. The after-school program provides academic support in a supervised environment for students in grades K-5; its Career Academy component allows students in grades 6-8 to explore career paths by working on projects. High school students can serve as tutors and mentors for the elementary and middle school students, and LCCC students studying early childhood and elementary education can apply for internships with SHINE to acquire professional experience.
David Reinbold, administrative director at Carbon Career and Technical Institute, Jim Thorpe, has been a longtime advocate for SHINE and says the program has been mutually beneficial for both SHINE and CCTI.
"The Career Academy for middle school is actually held at our school, and it's been a great pipeline to get students interested in career and technical education," he says. "There have been quite a few students who have gone through the SHINE program and enrolled at CCTI. They have the chance to get into our classrooms, learn about our programs, see our equipment. It's an excellent opportunity for younger students to get into our school rather than just for a one-day visit. It's also been a good experience for our teachers, to work with younger kids. The teaching that they do in SHINE is the same as what we do here, with an emphasis on hands-on projects."
SHINE's success continues to expand to additional schools. Tamaqua Area (TASD) in Schuylkill County is in its first year of the program. Kinder says he has seen the positive impact SHINE has made in other districts and is looking forward to the same outcome at Tamaqua. TASD's board was first approached about offering SHINE three or four years ago, but due to scheduling and budgetary restrictions, it took some time for the program to be implemented. It is currently offered at Tamaqua Elementary, one of the district's three elementary schools.
"Anything we can do to help our students, and anything that exposes them to programs and opportunities that will help them for the rest of their lives is something we want to do," Kinder says.